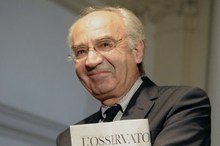 Italian prosecutors have today questioned the ousted head of the Vatican bank Ettore Gotti Tedeschi, a day after raids on his office and home in an inquiry into corruption at industrial giant Finmeccanica.
The aerospace and defence company's chief executive, Giuseppe Orsi, meanwhile denied handing any sensitive documents about the alleged bribery case to Gotti Tedeschi, saying that the notion itself was "ridiculous".
Orsi also said in a statement the "insinuation" that he may have used his friendship with Gotti Tedeschi for "improper reasons" was "unreal".
Police carried out raids targeting Gotti Tedeschi in Piacenza and Milan on Tuesday as part of a wide-ranging investigation into bribes and kickbacks.
Gotti Tedeschi was questioned in Milan by prosecutors from Naples and Rome after "interesting material" was found in the raids, Italian news agency ANSA reported without adding further details, citing investigators.
The former Vatican banker is not officially under investigation.
Gotti Tedeschi was sacked by the board of the Vatican bank, whose official title is the Institute for Religious Works or IOR, on May 24 after a major falling out with the Holy See's Secretary of State Tarcisio Bertone.
Vatican watchers say his ousting was linked to his drive to cooperate with an Italian money laundering inquiry and to implement reforms to ensure the Holy See was put on a "white list" of countries against money laundering.
Orsi is being investigated for corruption - one of several inquiries against the aerospace and defence giant, one of Italy's biggest companies.
The scandals forced out Finmeccanica's former chief executive Pier Francesco Guarguaglini in December 2011 after nine years in his post.
According to Corriere della Sera newspaper, Italy's central bank alerted the judiciary to several dodgy transactions conducted by priests using false names and for shadowy reasons.
It said the brother of Sicilian mafia boss Vincenzo Bonaccorsi had succeeded in laundering 300,000 euros ($380,000) by depositing it in the account of his son, a priest named Don Orazio.
- AFP