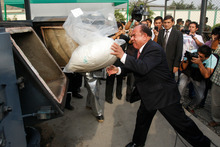 The vast profits made from drug production and trafficking are overwhelmingly reaped in rich "consuming" countries - principally across Europe and in the US - rather than war-torn "producing" nations such as Colombia and Mexico, new research has revealed. And its authors claim that financial regulators in the West are reluctant to go after Western banks in pursuit of the massive amount of drug money being laundered through their systems.
The most far-reaching and detailed analysis to date of the drug economy in any country - in this case, Colombia - shows that 2.6 per cent of the total street value of cocaine produced remains within the country, while a staggering 97.4 per cent of profits are reaped by criminal syndicates, and laundered by banks, in first-world consuming countries.
"The story of who makes the money from Colombian cocaine is a metaphor for the disproportionate burden placed in every way on 'producing' nations like Colombia as a result of the prohibition of drugs," said one of the authors of the study, Alejandro Gaviria.
"Colombian society has suffered to almost no economic advantage from the drugs trade, while huge profits are made by criminal distribution networks in consuming countries, and recycled by banks which operate with nothing like the restrictions that Colombia's own banking system is subject to."
His co-author, Daniel Mejia, added: "The whole system operated by authorities in the consuming nations is based around going after the small guy, the weakest link in the chain, and never the big business or financial systems where the big money is."
The work, by the two economists at University of the Andes in Bogota, is part of an initiative by the Colombian Government to overhaul global drugs policy and focus on money laundering by the big banks in America and Europe, as well as social prevention of drug taking and consideration of options for decriminalising some or all drugs.
The economists surveyed an entire range of economic, social and political facets of the drug wars that have ravaged Colombia. The conflict has now shifted, with deadly consequences, to Mexico and it is feared will spread very soon to central America.
Gaviria and Mejia estimate that the lowest possible street value (at US$100 per gram - $133) of "net cocaine, after interdiction" produced in Colombia during the year studied (2008) amounts to US$300 billion ($399 billion). But of that only US$7.8 billion remained in the country.
"It is a minuscule proportion of GDP," said Mejia, "which can impact disastrously on society and political life, but not on the Colombian economy. The economy for Colombian cocaine is outside Colombia."
"If countries like Colombia benefited economically from the drug trade, there would be a certain sense in it all," said Gaviria.
"It's taboo to go after the big banks," added Mejia.
"It's political suicide in this economic climate, because the amounts of money recycled are so high."
- Observer
By Ed Vulliamy