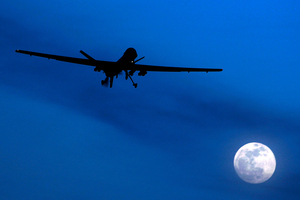 A US drone attack has killed at least five militants in a volatile northwestern Pakistan tribal region near the Afghan border.
The attack took place early on Monday in Hassokhel town, 25km east of Miranshah, the main town of North Waziristan, which is a known stronghold of Taleban and al-Qaeda linked militants.
It was the third such attack in the area since Thursday.
"The US drones targeting a militant compound and a vehicle fired four missiles killing five rebels," a Pakistani security official said.
The compound came under attack for a second time after some 20 minutes, with US drones firing four more missiles, he said.
Another security official confirmed the attack and casualties, saying the identities of those killed was not known but the area "was known for harbouring Uzbek, Arab and other foreign militants".
Washington considers Pakistan's semi-autonomous northwestern tribal belt the main hub of Taleban and al-Qaeda militants plotting attacks on the West and in Afghanistan.
North Waziristan is a stronghold of the Haqqani network - Afghan insurgents blamed for a series of spectacular attacks on Western targets in Kabul - and Pakistani Taleban chief Hakimullah Mehsud.
But Islamabad has been resisting US pressure to launch a sweeping offensive against militants in the area.
Pakistani-US relations went into free fall last year, starting when a CIA contractor shot dead two Pakistanis, then over the American raid that killed Osama bin Laden on May 2, and lastly over US air strikes that killed 24 Pakistani soldiers in November.
After the air strikes, Pakistan shut its Afghan border to NATO supplies and ordered US staff out of an air base reportedly used as a hub for drones.
In March, parliament agreed to reset US relations but on condition that Washington apologise for the soldiers' deaths and end drone attacks on its soil.
But this was the third drone attack in North Waziristan since Thursday when security officials say eight militants were killed in Hassokhel. That strike was followed by an attack on Saturday which security officials say killed at least four militants.
Pakistan has been incensed by Washington's refusal to apologise for the November air strikes and US officials have so far rejected Pakistani proposals to charge several thousand dollars for each alliance truck crossing the border.
US President Barack Obama snubbed Pakistan at a NATO summit this week, only seeing President Asif Ali Zardari in passing and voicing frustration with Islamabad.
- AFP