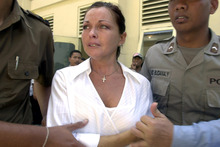 Drug smuggler Schapelle Corby will remain in Bali even if she is granted parole - but life on the resort island will be sweetened by love and family.
Corby, 34, this week had her 20-year sentence for importing 4.2kg of cannabis through Denpasar Airport cut by five years in a clemency decree from Indonesian President Susilo Bambang Yudhoyono.
Yesterday she was expected to officially learn her release date from Kerobokan Prison Governor Ngurah Wiratna, although doubts still surround her final day of imprisonment.
With the five years' granted under clemency and further remissions for good behaviour she could be eligible for release in 2015, but there are hopes she may qualify for parole in September.
With full remissions she would have served the required two-thirds of her sentence by then.
Although rare, parole has been granted to several foreigners under the system of "asimilasi" under which Corby would be integrated back into society, supported by confirmation of her good behaviour in prison, her agreement to undertake rehabilitation, and an Australian Embassy guarantee not to attempt escape or break parole conditions.
Provided she succeeds in the complicated process involved in parole, Corby will also have to remain in Bali until the end of her parole term.
While Corby has told her family of her longing to return to Australia and the beaches of the Gold Coast, Bali would not be a hardship.
Her sister Mercedes is a long-term resident, living with her Balinese partner, and News Ltd reported yesterday Corby had a lover waiting for her freedom.
The Sydney Daily Telegraph said that apart from the mundane routine of day-to-day life inside Kerobokan prison, Ben Panangian had been the only constant in Corby's life.
The newspaper said the couple had met in the prison when Panangian was also serving time for drug offences, and their relationship had grown from friendship to love.
It said that Panangian, who now makes a living hiring surfboards to tourists, visited Corby daily, spending hours with her in the public visiting area "where they are regularly seen cuddling".
Panangian was reportedly by Corby's side on Tuesday when she was given the news of her clemency.
"Panangian, who uses his more formal name Bernard on Corby's visitors list, has become such a pillar of strength to her that, when he was transferred to nearby Bangli prison, she was hospitalised with depression," the Telegraph said.
He told New Idea three years ago: "When I visit she always asks me to give her a big hug because affection is something she craves and misses.
"I'm scared she thinks she cannot survive and says her life is not worth living. She's only holding on for her family."
Indonesian officials have said humanitarian reasons were the key factor in the clemency decree.
Yudhoyono had previously said he would not grant clemency to foreign drug traffickers.
But the Corby decision has angered many Indonesians, who strongly support the country's tough stand on drugs.
Prominent international law expert Hikmahanto Juwana's earlier attack on the move has since been joined by Constitutional Court chief judge Mahfud Mohmadin, who said that drug crime was worse than corruption or terrorism.
"In corruption and terrorism cases, if the perpetrators are sanctioned to death, the case ends with their death," he said. "Drugs destroy life.
"It doesn't only kill the life of one person, but it destroys the life of the next generations."
Former Justice Minister Yusril Mahendra described the decision as weak.
By Greg Ansley

Email

Greg