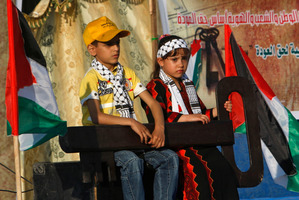 Israel is bracing for possible unrest later today, when Palestinians commemorate the exodus of hundreds of thousands of their kin following the foundation of the Jewish state in 1948.
Nakba Day, marked annually on May 15, is normally marked by protest, and often by clashes with Israelis in the Palestinian territories.
"We are coordinating with the military and border police, we hope things will be quiet," Israeli police spokesman Micky Rosenfeld told AFP on Monday. "We have mobilised a number of units in various areas," he said, without elaborating.
Palestinians traditionally mark on May 15 the "Nakba" or "disaster" when hundreds of thousands of them fled or were expelled from their homes in the war that accompanied Israel's declaration of independence.
More than 760,000 Palestinians - estimated today to number 4.7 million with their descendants - fled or were driven out of their homes in the Arab-Israeli war which accompanied Israel's establishment.
Around 160,000 Palestinians stayed behind and are now known as Arab Israelis. They number about 1.3 million people, or some 20 per cent of the population.
Last year, Israeli troops opened fire on demonstrators from Lebanon and Syria as they tried to breach a security fence and enter Israel. Four protesters from Syria were killed along with another 10 from Lebanon. Hundreds were wounded.
A senior military official in Israel's northern command said troops had trained to handle all situations, although they were not aware of plans for any big demonstrations along the borders as happened last year.
"We are getting ready for all kinds of provocations," he told AFP on condition of anonymity.
"The Israel Defence Forces are preparing for a tough situation, the soldiers are getting special training and the right weapons to stop provocations, without killing people," he said, indicating they would be equipped with riot control gear.
"It's when they catch you unprepared that people can die."
The Higher Arab Monitoring Committee, which represents Arab communities in Israel, called for a general strike and for Israeli Arabs to go to displaced Palestinian villages.
The committee said that this year's Nakba events were also in solidarity with the "struggle of our brave prisoners in the Israeli prisons."
On Monday evening Palestinian prisoners reached a deal with Israel to end a mass hunger strike by inmates, in exchange for better conditions.
Tuesday's central Palestinian rally will be in the West Bank city of Ramallah, organised by the Palestinian Authority.
Demonstrations are also scheduled for Israeli-annexed east Jerusalem and throughout the Gaza Strip.