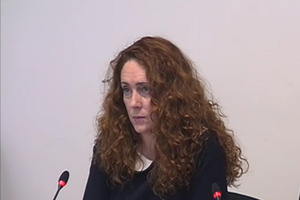 Former Rupert Murdoch confidante Rebekah Brooks and her husband will find out late tonight if they are to face the first charges resulting from Britain's phone-hacking scandal, her lawyer said.
Brooks and her husband Charlie, a former racehorse trainer, will find out after answering bail whether they will be charged with perverting the course of justice, her lawyer Stephen Parkinson confirmed to AFP last night.
Five other suspects including former News International head of security Mark Hanna will also learn their fate, the Press Association news agency reported, citing unnamed sources.
The Crown Prosecution Service refused to comment.
Brooks, 43, resigned as head of Murdoch's British newspaper wing News International in July, days after the closure of the scandal-hit News of the World tabloid.
She and her husband were arrested in March on suspicion of perverting the course of justice. Brooks was initially arrested in July over separate allegations of phone-hacking and bribing public officials.
In April, prosecutors said police had handed them a file relating to allegations against one journalist and six members of the public on perverting the course of justice.
Police have made more than 40 arrests since launching a huge new investigation into phone-hacking and bribery in January 2011 but there have been no charges to date from the probe.
A News of the World journalist and a private detective were jailed for hacking in 2007 but the paper insisted they were rogue operators.
Last Friday Brooks, who also edited the News of the World from 2000 to 2003, testified to a press ethics inquiry about her close relationship with Prime Minister David Cameron.
- AFP