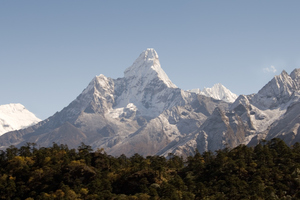 At least 11 people have been killed in an aeroplane crash in a remote area of northern Nepal, police say.
The Agni Air plane carrying 21 people plunged into a hill close to Jomsom near the Annapurna mountain range, police spokesman Binod Singh told AFP on Monday.
Six survivors, including two children, were rescued.
"The plane was about to land at Jomsom airport. It hit a muddy slope and is now buried in the side of the hill,'' Singh said.
"Seven men and four women have been killed.''
He said there had been an unknown number of foreign passengers on board.
The Press Trust of India news agency reported that four Indians were among the dead.
Singh said the aircraft had been carrying 18 passengers and three crew members.
- AFP