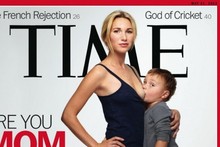 The cover of this week's Time magazine has caused an online stir even before it hits news stands.
The image of a 26-year-old woman breast-feeding her three-year-old son has caused a furore to eclipse that of All Black Piri Weepu bottlefeeding his eight-month-old daughter.
The cover story features four mothers who had adopted extended breast-feeding, with each photographed by Martin Schoeller with their children.
Each of the parents subscribe to attachment parenting, advocated by Dr Bill Sears and his wife Martha in their 1992 publication, The Baby Book.
Jamie Lynne Grumet, who graces the cover breast-feeding her son Aram, who is almost four-years-old, was herself breast-fed until she was six.
"I don't consider breast-feeding immodest at all. I'm not shy about doing it in public," Ms Grumet told Time magazine.
"They are people who tell me they're going to call social services on me or that it's child molestation," she said, regarding those who disagree with her breast-feeding her son - who is seen standing on a chair to reach his mother's breast in the cover photo.
"I really don't think I can reason with those people.
"But as far as someone who says they're uncomfortable with this, I don't think it's wrong to admit this. But people have to realise this is biologically normal. It's not socially normal.
"The more people see it, the more it'll become normal in our culture. That's what I'm hoping. I want people to see it.
"There seems to be a war going on between conventional parenting and attachment parenting, and that's what I want to avoid. I want everyone to be encouraging. We're not on opposing teams. We all need to be encouraging to each other, and I don't think we're doing a very good job at that," she told Time.
The article is already generating news items and online comment, similar to that here in New Zealand earlier this year when an anti-smoking advert was altered after breast-feeding proponents objected to the inclusion of All Black Piri Weepu bottlefeeding his daughter Taylor in the TV clip.
Mika Brzezisnki, co-host of MSNBC's weekday morning program Morning Joe,suggested on the air that the cover was needlessly sensational: "I'll tell you why it bothers me because it's a profile of Bill Sears!''
On Twitter, the cover inspired X-rated jokes along with concerns that the child might be teased when he's older.
But on many message boards, there was debate about whether it's OK to breastfeed beyond babyhood.
Bobbi Miller, a mother of six who lives in Arkansas, expressed disapproval in a tweet and said in a phone interview, "Even a cow knows when to wean their child.'' Of the cover, she said: "Why would this even be out there? It's ludicrous. It's almost on the verge of voyeurism.''
But Bettina Forbes, co-founder of an organization called Best for Babes that promotes breastfeeding and supports women who want to nurse their children beyond babyhood, said she hopes the cover "will make mainstream America less squeamish'' about women breastfeeding children of any age. "It's high time we talk about these things,'' she said.
Reaction to the cover underscored a cultural rift between traditional childrearing and what some have deemed "extreme parenting.'' The attachment philosophy encourages mothers to respond to their babies' every cry and form close bonds with near-constant physical contact through "co-sleeping'' (letting them sleep in the bed with parents rather than in cribs) and "baby-wearing'' (carrying them on slings instead of pushing them in strollers).
Retail chains including Target, Wal-Mart and Safeway did not immediately respond to requests for comment on whether the magazine would be displayed in stores.
Time Managing Editor Rick Stengel said he had not heard of any retailers concerned about displaying the cover. But he acknowledged that the image is "provocative. We're posing an interesting question about a subject that couldn't be more important how we raise our children. People have all kinds of mixed feelings about that.''
- Herald Online staff and AP staff