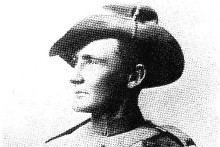 Harry "Breaker" Morant, executed 110 years ago for shooting unarmed prisoners during the Boer War, is less likely than ever to be granted a posthumous pardon.
Attorney-General Nicola Roxon has decided against seeking a pardon from the British Government, and hopes now rest with a planned case before the Court of Appeal in London.
Morant was a colourful expatriate English horseman, bush poet and journalist who served first with Australian units in South Africa, then with the Bushveldt Carbineers, an irregular British regiment operating in Northern Transvaal.
Following the murder of 12 prisoners he faced trial with Australians Peter Handcock and George Witton. All were convicted, Morant and Handcock were executed and Witton was sentenced to life imprisonment. An Oscar-nominated film by Australian director Bruce Beresford revived Morant as a folk hero and victim of imperial injustice.
Three years ago naval lawyer James Unkles launched a campaign to have Morant pardoned in the belief that he did not receive a fair trial and that he was not guilty of the charges.
Unkles told the ABC he believed Roxon had made a political, rather than legal, decision.
"They don't want to offend the British and there are powerful institutions and individuals in this country who want to make sure that this case goes no further ...
But Unkles' claim that Morant, Handcock and Witton were not guilty because they were ordered to kill the prisoners has been disputed by other experts.
Fellow historian Craig Wilcox told the ABC that the three soldiers had not denied the shootings, no evidence of any orders to kill the prisoners had been found, and one of Morant's own men said any such claim was a "bogus idea". He also said the trial lasted about five weeks in an age when civilian murder trials typically took only three days, and had been thorough and fair by the standards of the day.
In a letter to Unkles, Roxon said it would not be appropriate for the Australian Government to advocate a pardon when there was no dispute that Morant and his colleagues had committed the killings of unarmed Boer prisoners and others.
"I consider that seeking a pardon ... could be rightly perceived as 'glossing over' very grave criminal acts."
By Greg Ansley

Email

Greg