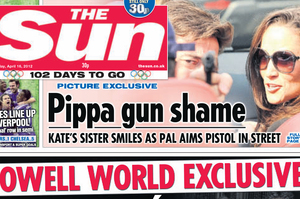 Royal bridesmaid Pippa Middleton could face arrest and interrogation after a friend aimed a gun at a photographer in Paris, reports The Sun newspaper.
Pictures published by the British newspaper show the younger sister of Catherine, Duchess of Cambridge, in the front seat of a convertible as the male driver produces the gun and takes aim to the amusement of another man in the car.
French authorities are cracking down on gun crime in the wake of a recent shooting in Tolouse where seven people, were killed, and police are poised to launch an investigation into Saturday's shocking event which could include Pippa's arrest, The Sun reported.
"If the evidence points to her involvement, she will be prosecuted," an unnamed source said of Pippa.
"Anybody involved in the illegal use of a handgun in public is liable to arrest and interrogation."
Even if the gun was found to be fake, punishment for such crimes can include jail time, The Sun said.
Since her appearance as bridesmaid at her sister's royal wedding to Prince William, Pippa, 28, has attracted global attention and is photographed on a daily basis.
The French photographer at whom the weapon was aimed at the weekend is reportedly considering making a formal police complaint.
- AAP