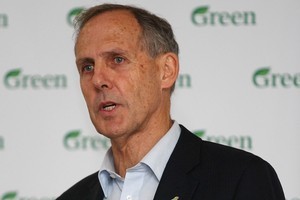 Bob Brown. Photo / Getty Images
The charismatic founder and leader of the Australian Greens, Bob Brown, has thrown a new bomb into federal politics with his sudden and unexpected resignation from the Senate.
He has handed leadership of the nation's third political force to deputy and long-time associate Chris Milne, leaving intact the deal that has played a key role in the survival of Prime Minister Julia Gillard's fragile minority Labor Government.
But Brown's optimism yesterday aside, his departure casts a shadow both over the future of the Greens and the delicate relationship between the Government and the party that holds the balance of power in the Senate.
The sole Greens member in the Lower House, Melbourne MP Adam Bandt, is also crucial to Gillard.
There is no indication yet of who will take Brown's seat in the Senate, although under parliamentary convention it will be a Green, maintaining the party's nine seats and its ability to decide the passage of legislation through the Upper House.
Brown's personality, values and political skills were central to the cohesion and success of the Greens, and to the party's often fraught relationship with Gillard.
How Milne will manage her new job has yet to be seen. While she has worked closely with Brown for decades and shares his values, personality and potentially new political priorities could alter present dynamics.
Milne was with Brown during the Franklin Dam blockade in 1982, a campaign to prevent the damming of Tasmania's Gordon River that significantly shaped the Greens as a political force, helped bring down Malcolm Fraser's Coalition Government, and led to a landmark constitutional ruling upholding federal treaty powers.
Milne was elected to the Tasmanian Parliament in 1989, succeeded Brown as leader of the state Greens when he moved to the Senate in 1993, and was later one of his advisers until her own election to the Senate in 2004.
Yesterday she said of Brown: "He has contributed enormously to the thinking of this country and, in particular, to highlighting the compassion that exists in this country and confronting people with the reality of the need for a more caring, inclusive society."
Milne also outlined early priorities, including the rebuilding of damaged bridges between Greens and rural Australia, with a recognition the party had misunderstood the needs of farmers and the bush.
She will also continue Brown's campaign against "rapacious" miners.
But her key job will be to maintain and build on the gains the party has made in the past 16 years under Brown's leadership.
In the 2010 election the Greens won 11.8 per cent of the vote, and in last month's Newspoll had nudged this up to 12 per cent.
Brown said the party was "set to grow" with the aim of moving from holder of the balance of power to a party of government in its own right.
But Brown said it was time for him to go.
"I'm 67 and I'm aware that one should always make room for renewal in politics ... It is a prime time to hand over the reins."
Brown's departure ends a remarkable political career as activist, Greens founder and first openly gay MP, even in Tasmania when homosexuality was still a crime.
As a doctor he refused to certify men who opposed the Vietnam war as fit for conscription, protested against the arrival of the American nuclear-powered aircraft carrier Enterprise, and went to jail over the Franklin Dam.
In Canberra he opposed the Iraq war, was ejected from Parliament for interjecting during a speech by visiting US President George W. Bush, campaigned on behalf of Australian Guantanamo Bay inmate David Hicks, and is a staunch advocate of asylum seekers.
He lives in Hobart with his partner Paul Thomas, and intends now to spend more time on bushwalking, writing and photography.
Gillard wished Brown well in his life after politics.
"Throughout his time in elected office, Bob Brown has been a figure of integrity with a deep love for this country and its environment," she said.
Opposition Leader Tony Abbott said Brown had been a strong force in Australian politics, but warned the Greens faced "turbulent times" with his departure.