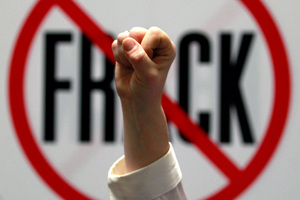 A series of small earthquakes in Ohio late last year was probably caused by activity from fracking, a controversial oil and gas drilling technique, a state review has concluded.
The Ohio Department of Natural Resources said its review of the quakes in northeast Ohio last December appeared to be caused by a rare confluence of events in which waste water injected into the ground triggered seismic activity in an unmapped fault area.
"Geologists believe induced seismic activity is extremely rare, but it can occur with the confluence of a series of specific circumstances," the report said.
"After investigating all available geological formation and well activity data, (state) regulators and geologists found a number of co-occurring circumstances strongly indicating the Youngstown area earthquakes were induced."
It concluded that disposal fluid from the Northstar 1 well "intersected an unmapped fault in a near-failure state of stress, causing movement along that fault".
With the report, Ohio's oil and gas regulators announced new standards for transporting and disposing of brine, a by-product of oil and natural gas hydraulic fracturing, or "fracking," saying the rules will be "among the nation's toughest."
The new rules call for a review of geologic data for known faulted areas within the state and a ban on locating certain disposal wells within these areas.
The state will also require oil and gas operations to plug with cement any wells penetrating into the Precambrian basement rock and prohibit injection into these formations.
The report is the latest to raise fresh questions about fracking, a technique that offers the potential to unlock vast quantities of natural gas from shale formations but has come under intense scrutiny from environmentalists.
The Ohio Oil and Gas Association, however, said the report simply indicated that the well was in a fault area that was previously unknown.
Association president Thomas Stewart said the report "confirmed... our belief that the recent seismic activity in the Youngstown area was associated with a previously unknown geologic factor, in this case, an unmapped fault."
"We plan to thoroughly review the new regulations... and strongly urge the public and state officials to not allow a rare and isolated event to diminish the excellent service record of Class II injection wells in Ohio," Stewart said.
Some US states and other countries have moved to ban certain types of fracking, although the industry contends the techniques have been in use for decades and are safe.
-AAP