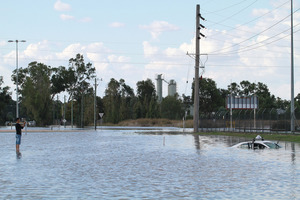 The misery of flood-stricken New South Wales and Victoria will continue for weeks as waters continue to surge down major river systems with warnings of more heavy rain next month.
Evacuation orders and warnings were in place yesterday for towns in the path of the floodwaters, with rising river levels threatening thousands of homes, farms and businesses.
Behind the peaks, floods have left devastated communities, drowned farmland and damage bills soaring into the hundreds of millions of dollars.
The full extent of the devastation already caused will not become clear until waters recede and residents are able to return.
The Bureau of Meteorology says that further flooding in southern NSW and northern Victoria is expected to continue well into this month as floodwaters move down affected rivers.
And yesterday NSW Roads Minister Duncan Gray, estimating the cost to the state's roads system at "way north of A$500 million ($644,421)", warned of more to come.
"Sadly we're in a La Nina and the weather forecasters are telling me that April will be the worst that we've faced yet," he told ABC radio.
La Nina is the flip side of the El Nino climate phenomenon responsible for years of searing drought in Australia, instead bringing rain as sea surface temperatures fall below normal levels.
This year Australia has been hit twice as hard.
Bureau of Meteorology NSW Climate Manager Aaron Coutts-Smith said the continent was in the throes of two consecutive La Nina events, contributing to heavy rain and flooding.
"It is very rare to have such persistent, record-breaking rainfall over such large areas of NSW and Victoria," he said.
Ahead of the present crisis NSW endured its equal wettest week on record as a slow-moving rain-band dumped an average 123.9mm across the state.
Dozens of individual rainfall stations, and entire catchments, broke records that hit a 186.5mm high at Charlotte Pass, in the Snowy Mountains.
Many stations with more than 100 years of data collection reached new weekly rainfall records, including Mount Buffalo (525mm), Yackandandah (324mm) and Ivanhoe.
In NSW another 18 local government areas were added to the state's natural disaster declarations on Thursday.
Yesterday, residents of northwestern Sydney, including Richmond, Lowlands, Pitt Town and Gronos Point were warned to prepare for possible evacuation as levels again rose along the Hawkesbury River.
More than 1000 people were housed in evacuation centres at the southwestern town of Griffith, while in the central west of the state Forbes was cut into three by the Lachlan River.
Further flooding is expected in the coming week in centres including Condobolin, Darlington Point, Carathpool, Hay and Narrandera, where the Murrumbidgee was late yesterday forecast to reach record 1974 levels.
Flood warnings are also in place for 11 Victorian river systems and for the Snowy River and east, west and south Gippsland catchments.