Social media opens up a new world for feedback from furious listeners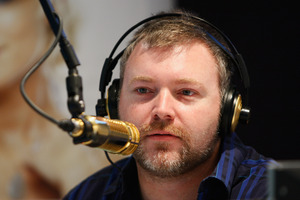 Life is not always easy for the megabuck mouths of Australian shock jocks - especially with social media blossoming as a weapon for outraged audiences.
Some big names have been scarred in the past, including talkback royalty Alan Jones, John Laws and New Zealand-born Derryn Hinch, but the power of the backlash has really hammered successors Kyle Sandilands and morning TV host Yumi Styles.
After losing a powerful clutch of advertisers, Sandilands is now reportedly on a leash held by Sydney radio 2DayFM's chief content adviser, in the form of a red light that essentially warns him to belt up.
Stynes, whose comments with co-host George Negus sniping at the sexual prowess of Afghan war hero Corporal Ben Roberts-Smith provoked a similar sponsorship exodus from Channel Ten's The Circle breakfast show, has provoked a barrage of abuse and death threats online.
Stynes has borne the brunt of the hate campaign that erupted after co-hosts suggested Roberts-Smith was a "dud root" because he and his wife had used IVF to conceive.
Stynes quipped at a picture of the Victoria Cross winner in a swimming pool: "He's going to dive down to the bottom of the pool to see if his brain is there."
Stynes, Negus and Channel Ten offered apologies, which were accepted by Roberts-Smith: "I have now put this matter behind me so I can focus on serving my country."
Viewers have not been so forgiving. The Circle's Facebook page has been flooded with angry comments, triggering concern about the "extreme nature" of some threats of harm.
But Channel Ten is standing by Stynes, saying: "Yumi remains a valued member of The Circle team and we are all focused on moving forward."
Sponsors are taking no chances, with the list of those either pulling out of the programme or reviewing their plans including Mirvac Hotels & Resorts, Yoplait, Big 4 Holiday Parks, garden supplier Hoselink, Swisse Vitamins and coffee group Jamaica Blue.
And the campaign has moved to radio, with abuse following Stynes to Australian Radio Network's 3PM Pick-Up programme, which she co-hosts.
Sandilands has felt a longer, more painful lashing. He co-hosts Sydney's top-rating breakfast Kyle and Jackie O Show with Jacqueline Henderson, which is syndicated to almost 70 stations across Australia to an audience of about 1.5 million.
Sandilands' trademark has always been an aggressive, abusive and controversial style that has alienated many Australians but has pushed his show's ratings and boosted the earnings of station owner Southern Cross Austereo.
But he has crossed serious lines. Sandilands was suspended for several weeks, with his future in doubt, after putting a reluctant 14-year-old girl on air at the request of her mother, forcing the revelation that she had been raped at 12. His response was: "Right ... is that the only experience you've had?"
Late last year, furious at a review panning a one-off TV show, Sandilands abused News Ltd journalist Ali Stephenson as, among other things, a "fat slag" who he would "hunt down" if she did not shut her mouth.
Both incidents sparked severe retaliation from listeners, expressing their disgust on Facebook and the internet and, after the "fat slag" remark, the creation of a "Vile Kyle" internet campaign and an online petition of tens of thousands demanding advertisers drop his programme.
For his handling of the distraught teenager, Sandilands was sacked as an Australian Idol judge on Channel Ten, but later picked up another deal with rival Seven network.
Advertisers fled, including diet group Jenny Craig, Qantas, Telstra, Ford, Vodafone and insurer GIO.
Austereo chief executive Rhys Holleran said a re-set Kyle and Jackie O Show would be "advertiser-friendly" but Sydney's Daily Telegraph said the station was taking no chances.
The paper said a blinking red light had been installed in the studio to warn Sandilands when he was nearing "dangerous territory" and he should switch subjects.