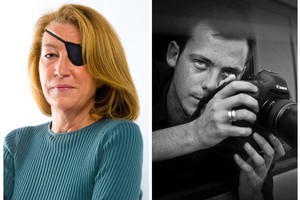 Two videos released by activists in the Syrian city of Homs claim to show the burials of veteran US reporter Marie Colvin and French photographer Remi Ochlik, both killed in a rocket attack on February 22.
In the two short videos, a man claiming to be a doctor and dressed in surgeon's green gown and a white coat opens body bags and shows the faces of the two slain journalists.
Their names are inscribed on the respective body bags.
"We have no means to preserve the bodies due to a lack of electricity for the refrigerators," the man says in Arabic.
"Therefore we have decided to bury them here, in a cemetery in Baba Amr."
It was not possible to verify the veracity of the videos, which are dated on Monday.
Attempts by the Red Cross and Red Crescent to retrieve the bodies have failed due to a relentless barrage of shellfire by Syrian forces on Homs's rebel bastion of Baba Amr.
Rebel fighters retreated from Baba Amr on Thursday following a ground assault by regime forces.
British photographer Paul Conroy, who was wounded in the February 22 shelling, arrived Tuesday in Lebanon after rebels helped him flee the besieged city.
Late on Thursday, French President Nicolas Sarkozy said French journalists Edith Bouvier, who sustained serious leg wounds in the Homs rocket attack, and William Daniels, who had been trapped for days in the city, had arrived in Lebanon.
"Edith Bouvier and William Daniels are currently safe on Lebanese territory and will within moments be under the protection of our embassy in Beirut," Sarkozy said during a brief news conference on the sidelines of an EU summit in Brussels.
Spanish journalist Javier Espinosa, who had also been trapped in Homs, too has crossed into Lebanon, his employer the El Mundo newspaper said on Wednesday.
- AFP