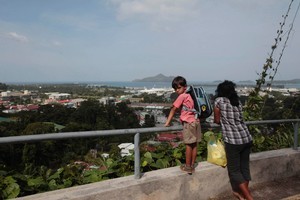 After three sweltering days without power, eating only emergency rations and washing with bottled mineral water, they will no doubt be desperate for a proper shower and rest.
But when the 1,049 passengers and crew on board the stricken Costa Allegra finally reach the Seychelles today, they are likely to face further chaos.
There will be only two showers available to them at the port.
The guests - who each paid more than £2,500 for the trip - could then face ferry trips to reach some of the 400 hotel rooms booked for them by Costa Cruises, as many will not be on the main island of MahŽ.
Most hotels there are booked up due to the Seychelles' carnival.
Holidaymakers - 31 of them British - will also be given the opportunity to fly to Rome on charter flights this afternoon. However, it is unclear how those flying will be able to wash beforehand, or how they will get home from there.
The Costa Allegra's power supply was knocked out by an engine fire on Monday. The ship was 200 miles south of the Seychelles.
The 636 guests were forced to sleep on the decks, in temperatures up to 35c (95f).
Last night, sources from the British consulate and the ministry of foreign affairs in the Seychelles said they had not been given clear guidance about plans for the ship's guests.
It is unclear what provisions are being made for the crew.
- DAILY MAIL