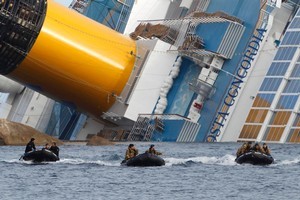 Europe's biggest cruise ship operator was caught up on Wednesday in the probe into the Costa Concordia tragedy as eight more bodies including a five-year-old Italian girl were found in the wreck.
Three managers of Costa Crociere received formal notifications that they were under investigation along with four officers from the liner, joining captain Francesco Schettino and first officer Ciro Ambrosio as suspects.
"We have received seven formal notifications - four for officers on board, three for company employees on land,'' Costa Crociere spokesman Davide Barbano told AFP, without revealing the names of those being investigated.
Italian news agency ANSA reported that the three Costa Crociere executives were the company's vice president Manfred Ursprunger, the head of the company's crisis unit Roberto Ferrarini and fleet superintendent Paolo Parodi.
Italian media reports said the seven face charges of manslaughter, causing a shipwreck and failing to communicate with maritime authorities.
The giant luxury ship hit rocks off the Italian island of Giglio and keeled over with 4,229 passengers and crew from 60 countries on board on the night of January 13. Thirty-two people are believed to have died in the tragedy.
According to leaked transcripts of his questioning by investigators, Schettino said Costa Crociere was aware of the scale of the disaster early on, but the company has indicated that he had deliberately misled executives.
Schettino - dubbed "Captain Coward" by the tabloid press for his quick exit from the ship - called Ferrarini several times as the tragedy unfolded.
Schettino and Ambrosio are being investigated on charges of manslaughter, causing a shipwreck and abandoning ship before all passengers were evacuated.
"We have full confidence in the work of prosecutors. We have offered complete cooperation and we are certain that the professionalism and capacity of the company will be confirmed,'' Costa Crociere said in a statement.
Italian consumer group Codacons, which is a plaintiff in the inquiry and is suing for damages, has called for Costa Crociere's chief executive Pier Luigi Foschi and for all the ship's officers to be put under investigation.
Meanwhile, divers found eight badly decomposed bodies in the submerged part of the giant liner, including that of five-year-old Dayana Arlotti.
All eight were found on deck four of the ship close to the lifeboats, some of which failed to deploy during the chaotic night-time evacuation.
The location of the bodies were found thanks to testimony from survivors who remembered their last moments before leaving the sinking ship.
Salvage workers began pumping 2,400 tonnes of fuel from the ship's tanks on February 12, in an operation expected to take a month that is seen as crucial to avert an environmental disaster in the pristine marine sanctuary.
Dozens of survivors have launched lawsuits against Costa Crociere and its US parent company Carnival Corp in France, Germany and the United States.
In a lawsuit in Carnival's home state of Florida, 39 survivors are seeking more than half a billion dollars in damages.
Costa Crociere has offered uninjured passengers 11,000 euros each plus expenses incurred as compensation.
- AFP