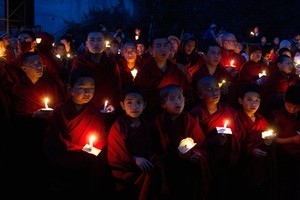 An 18-year-old Tibetan Buddhist monk has died after a self-immolation protest in south-western China's Sichuan province, exiles and rights groups say.
Hundreds of other monks and lay Tibetans prevented police from seizing the body of the monk after he set fire to himself on Sunday in Rangtang county, known as Dzamthang in Tibetan, the International Campaign for Tibet said.
The monk, identified by the single name, Nangdrol, had shouted his support for the exiled Tibetan spiritual leader, the Dalai Lama, and "Freedom for Tibet."
His self-immolation was the latest of about two dozen such protests in Tibetan areas of China in recent months.
It followed the self-immolation on Friday of 38-year-old monk Damchoe Sangpo, an official at his monastery in nearby Tianjun county in Qinghai province.
Damchoe was angered by a growing security presence at his monastery and by restrictions on a traditional religious festival, US-based Radio Free Asia quoted exiled monks as saying.
The Chinese government has tightened security in most Tibetan areas this year amid a series of protests and self-immolations.
Police arrested popular Tibetan writer Gangkye Drubpa Kyab last week in Sichuan's Seda, the broadcaster said.
Speaking after meeting EU leaders last week, Premier Wen Jiabao said the recent Tibetan protests had "no popular support" and stemmed from "attempts to incite a small number of monks to take extreme acts."
- AAP