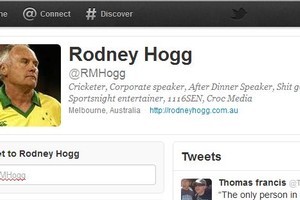 Former Australia cricketer Rodney Hogg's anti-Muslim tweet on Australia Day is drawing fire.
The ex-fast bowler wrote on Twitter earlier today that he "Just put out my Aussie flag for Australia Day but I wasn't sure if it would offend Muslims... so I wrote 'Allah is a s---' on it to make sure.''
The tweet was quickly deleted, with Hogg writing "Bad attempted Australian humour, sorry if I offended you."
Later, Hogg extended the apology, saying he offered "sincere apologies to the Muslim community. A stupid tweet by me in very bad taste."
The president of the Australian Federation of Islamic Councils, Ikebal Patel, told The Age that the remark was "absolutely despicable."
"For him to say such things is more than despicable, it's the pits really," Mr Patel told The Age.
- Herald Online