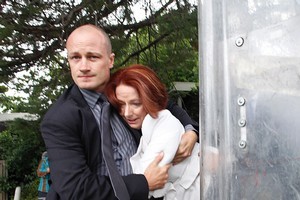 Prime Minister Julia Gillard is escorted by police and bodyguards out of an award ceremony after aboriginal tent embassy protesters tried to get into the building in Canberra, today. Photo / AAP
Comments by federal Opposition Leader Tony Abbott that perhaps it was time for the Aboriginal tent embassy to move on triggered a protest today that trapped him and Prime Minister Julia Gillard in a Canberra restaurant.
About 200 protesters ran from the tent embassy, where 40th anniversary celebrations were under way, to the nearby Lobby restaurant in Canberra after learning Mr Abbott was giving a speech there.
He and Ms Gillard were presenting the inaugural National Emergency Medals.
For a few minutes after the function began, a man in a black t-shirt, emblazoned with the Aboriginal flag, watched proceedings through the restaurant's glass facade.
As Ms Gillard presented the last of the 26 emergency services workers with their medals a woman burst in a side door of the restaurant, threw a handful of rose petals and shouted.
Protesters then encircled the restaurant, banging on its three glass walls, chanting "shame" and "racist" and shouting for Mr Abbott to come outside.
About 50 police from ACT Policing and Parliament House, including a riot squad, were called to the scene and surrounded the restaurant.
After about 20 minutes trapped inside, the politicians were hustled out a side door and made for the prime minister's car.
Ms Gillard, surrounded by security officers in the midst of the throng, stumbled and lost a shoe.
Protesters hemmed in the car and banged on its roof and bonnet.
Police formed a cordon across the road to let the car get away while eight indigenous women sat on the road facing them.
Protester Fred Hooper said an announcement had come over a loudspeaker at the tent embassy celebrations, just a few hundred metres from the restaurant, saying that Mr Abbott had called for the embassy to be taken apart.
"We were sitting over there and all of a sudden on the mike they announced Tony Abbott had just announced that he wanted the tent embassy pulled down," he told reporters after the protest quietened down.
"We came over to confront Mr Abbott. We didn't know the prime minister was here until we got here.
"It was Mr Abbott who incited this, not the Aboriginal people of the tent embassy."
Mr Abbott had been asked about the embassy in an interview in Sydney hours earlier.
"I can understand why the tent embassy was established all those years ago," he said.
"I think a lot has changed since then, and I think it probably is time to move on from that."
Sergeant Chris Meagher, of ACT Policing, said no one was injured in the scuffles and it was unlikely any arrests would be made.
Police had been liaising with indigenous elders at the tent embassy throughout the day, with a peaceful protest march of about 1500 taking place earlier on Thursday.
Sgt Meagher said the protest had been a move by those at the tent embassy to get their point across.
"Basically, there was a minor fracas between ourselves and the demonstrators," he told reporters.
"We believe in being quite flexible in our policing actions with these people, and they've had a point to prove today and they're having their celebrations.
"We have no intention of arresting anybody for no unreasonable cause."
One of the medal recipients, Tracy Griggs from Victoria, said she would not let the incident marr her day.
"I still know what I did on the day (during the 2009 Victorian fires) and the role I played," she told AAP.
About 90 minutes after the protest began, tent embassy organisers moved them back towards the embassy "to listen to the elders".
Some protesters said they would spread the word via social media and get more people to the area for further protests on Friday.
- AAP