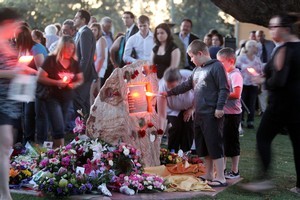 Residents, friends and family yesterday attended a dawn unveiling of a memorial in Grantham to those killed by the floods a year ago. Photo / Courier Mail
The strength and courage that carried Lockyer Valley residents through 2011 will sustain them through another year of rebuilding, the Queensland Premier says.
Anna Bligh says optimism and hope will also endure among residents who paused yesterday to mark a year since deadly floods tore apart their towns west of Brisbane.
"We can look forward to 2012 with the same strength and courage that got us through 2011, with a sense of hope and confidence and optimism about what is in front of us," the Premier told a commemorative service in Gatton.
She spoke of the 22 lives lost in the valley when a deadly wall of water swept through with devastating power on January 10, 2011.
"We mourn for those we've lost - the sons, daughters, husbands and wives, brothers, sisters, grandparents, the friends, the precious much-loved mates," Bligh told the gathering.
"And we vow to keep them and their memories in our hearts."
The service in Gatton was among several planned yesterday to mark the devastating events of a year ago, when 20 of the valley's 23 towns faced their darkest day.
Prime Minister Julia Gillard made the trip to Gatton to commemorate a disaster she said had left a scar on the nation's heart.
"Even before the total number of lives lost was known, images were being inscribed deep in our nation's heart. Images of horror and destruction, and images of valour and sacrifice as well," Gillard told the service. "I applaud you for coming so far so quickly and I wish you well as you continue along the path to recovery."
During the service, Scouts from the local community of Withcott lit 19 candles of remembrance, one for each life lost in the region.
Lockyer Valley Mayor Steve Jones finished the service by thanking all Australians for their heartfelt outpouring of support.
- AAP