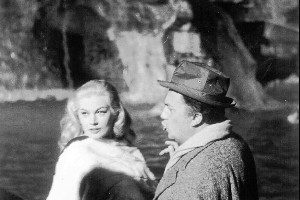 Her years as a 60s film icon must seem a very long time ago now for Anita Ekberg.
For the Swedish actress, who entered cinema history the moment she stepped into Rome's Trevi Fountain during the celebrated scene in Federico Fellini's 1960 masterpiece La Dolce Vita, has fallen on very hard times indeed.
Things are so bad, that three months after her 80th birthday, the actress has asked her accountant, Massimo Morais, to request financial help from the Fellini Foundation, which was set up to honour the achievements of the renowned Italian director.
Ekberg, who has no family, says she desperately needs assistance with the bills as she recuperates in a care home after suffering a broken leg. She is unable to walk or look after herself and her plight has been exacerbated by the theft of jewellery and some furniture from her home, which was recently damaged by fire.
Morais, who is acting on Ekberg's behalf, says his client wants to return to her home but will not be able to without help to repair the building.
In the letter to the Fellini Foundation in Rimini, Morais writes that the actress "wants to share with other benefactors the possibility, however modest, of aiding a very good actress, deserving of help. A small present is always a great gift".
But Ekberg's call for help comes at a tough time for the Fellini Foundation, set up in 1995 by Maddalena Fellini, the late director's sister, and the City of Rimini to promote the filmmaker's legacy; the organisation has seen its accounts slip into the red, and has had to ask for charitable donations.
Fellini's film, with its critical look at the high society of late-1950s Rome, marked the peak of Ekberg's career, but it was also the start of her decline as she became typecast as the ultimate blond sex symbol.
During the height of her fame, Ekberg was courted by some of the world's most eligible and wealthy men, including Frank Sinatra, who asked her to marry him.
- Independent