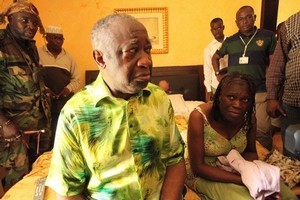 Ivory Coast will transfer ousted leader Laurent Gbagbo to the International Criminal Court (ICC) in The Hague within hours, one of his lawyers has said.
"The prosecutor has served an international arrest warrant on ... Laurent Gbagbo," lawyer Jean Gbougnon told AFP.
"This concerns his transfer to The Hague; I don't know when, maybe today, at the latest tomorrow."
Gbagbo was informed of the imminent transfer earlier Tuesday, less than two weeks before legislative elections.
Sources familiar with the case said here that the transfer could be as soon as Tuesday night.
Last month, ICC judges gave prosecutor Luis Moreno-Ocampo the green light to probe post-election war crimes and crimes against humanity committed by forces loyal to both Gbagbo and new Ivorian President Alassane Ouattara.
Gbagbo has been appearing before an investigating magistrate in the northern Ivorian town of Korhogo since Monday, Gbougnon said.
The former leader faces charges on home soil for "economic crimes", allegedly committed during the political crisis that left 3,000 people dead after his refusal to accept defeat in November 2010 elections.
Gbagbo was arrested on April 11.
His wife Simone is detained at Odienne in the northwest of the west African country, while dozens of Gbagbo followers and close military and civilian aides are being held for assault, "violating the authority of the state" or economic crimes.
Among them are former prime minister Gilbert Ake N'Gbo and several former ministers; Gbagbo's son Michel Gbagbo, who has dual French and Ivorian nationality; the head of the former ruling party the Ivorian Popular Front, Pascal Affi N'Guessan; and several senior members of the former state security agencies.
ICC spokesman Fadi el-Abdallah told AFP the court in The Hague could not comment on the lawyer's statement until judges made their decision public.
During a visit to Abidjan on October 15, Moreno-Ocampo promised that his investigation would be "impartial" and said he would focus on three to six people who share the biggest responsibilities in the post-election crisis.
Ivory Coast's new rulers have been pressing for weeks to have Gbagbo transferred to The Hague, at times making his detention at ICC headquarters a condition for "reconciliation" in the deeply divided country.
- AFP