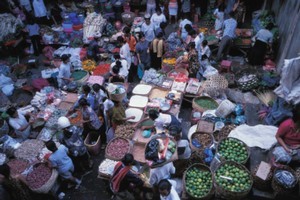 An Australian man has been electrocuted on a busy street in the popular holiday area of Kuta in Bali.
The 18-year-old from NSW was walking with friends on Jalan Legian when he died after touching a metal pole in a section of the street under repair.
Police said a witness saw the man grab the pole and then heard him scream.
He had been walking with two friends on a section of footpath which was obstructed by concrete slabs due to ongoing roadworks.
The Department of Foreign Affairs and Trade (DFAT) has confirmed the incident, which occurred on Saturday morning.
"Consular officers in Australia are providing assistance to the family of a teenager from New South Wales who died in Bali on 26 November as a result of accidental electrocution," a DFAT spokesman said in a statement.
"Staff from the Australian consulate in Bali are providing consular assistance to the friends of the teenager."
Police said the incident occurred outside a bar in a busy nightclub district popular with Australian tourists.
The man's body has been taken to a morgue at a hospital in Denpasar.
- AAP