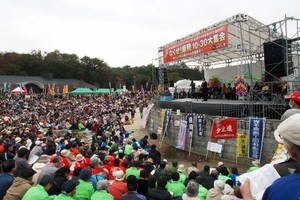 Thousands of people angered by Japan's nuclear power plant accident have rallied in Fukushima to demand full compensation for victims of the crisis, and swift decontamination of their neighbourhoods.
Yesterday's rally was attended by about 10,000 people, organisers estimated.
"Our town should be decontaminated at the earliest possible date and our life should be restored as it was before March 11," the mayor of Namie, Tamotsu Baba, told the rally.
A 9.0-magnitude earthquake and monster tsunami on March 11 crippled the power plant's cooling systems and sparked reactor meltdowns, a series of explosions and the release of huge amounts of radiation into the environment.
All 21,000 residents in Namie, just north of the Fukushima Daiichi plant, were forced to evacuate from their homes.
More than seven months after the disaster, tens of thousands of people remain evacuated from homes and businesses in a 20 kilometre no-go zone around the plant and in pockets beyond.
Fully decontaminating those areas is expected to take decades.
Meanwhile, lawyers on Sunday launched a legal team to help victims of the Fukushima accident seek compensation from the plant's operator, Tokyo Electric Power Co, and the national government.
About 30 lawyers, mostly based in the northern Fukushima region, announced at a news conference they had set up a new legal advisory team.
In a statement, they vowed to help victims including those engaged in tourism, agriculture and dairy farms whose business has slumped due to fears of radiation from the plant.
A similar team of about 30 lawyers, mostly based in southern Fukushima, was already inaugurated on October 16 as they had been asked for legal advice on compensation from hundreds of victims, according to their leader.
The statement said the team will initially assist some 50 people in demanding Tokyo Electric Power Co (TEPCO) and the government fully compensate them, restore their business bases and rebuild their neighbourhoods.
- AFP