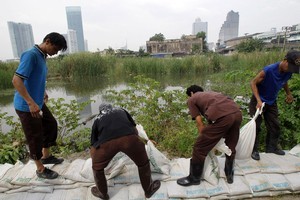 Workers pile up sand bags to make floods barriers at an area near the Chao Phraya river in Bangkok, Thailand. Photo / AP
Distressed Thais hurriedly packed up and fled their homes in flood-stricken areas just north of Bangkok as a sea of muddy water moved ever closer to the capital.
Prime Minister Yingluck Shinawatra warned late yesterday it was impossible to stop the floods gushing into the city and ordered sluice gates to be opened to allow water to flow through canals and out to sea.
"The longer we block the water the higher it gets,'' she said, calling the situation a "national crisis"
"We cannot block the water forever,'' said a sombre-looking Prime Minister Yingluck Shinawatra.
"The longer we block the water the higher it gets. We need areas that water can be drained through so the water can flow out to the sea.
"I have decided to ask Bangkok to open all gates, which could trigger an overflow, in order to drain water into the sea as soon as possible.''
"Flood waters are coming from every direction and we cannot control them because it's a huge amount of water. We will try to warn people,'' said Yingluck, a political novice before taking office barely two months ago.
"This problem is very overwhelming. It's a national crisis so I hope to get cooperation from everybody.''
The authorities have warned that seven districts - with a total official population of almost one million people - are at particular risk in northern and eastern Bangkok.
Residents in those areas have been advised to unplug electrical appliances, move belongings to higher ground and study the city's evacuation plan.
Tens of thousands of soldiers and police have been mobilised to prevent people destroying flood defences.
The authorities have failed to protect a number of major industrial parks from the gushing brown water, which has inundated hundreds of factories outside Bangkok, disrupting production of cars, electronics and other goods.
The government says more than half a million people have been left without work.
Bangkok's main airport, built on a drained marsh, is still operating as normal and its flood defences have been reinforced.
The capital has an extensive drainage system including 200 floodgates, 158 pump stations, seven giant underground tunnels and 1,682 canals covering 2,604 kilometres , according to the city authorities.
The floods have killed 320 people around the country, damaged the homes and livelihoods of millions of people - mostly in the north and centre - and forced tens of thousands to seek refuge in shelters.
The prospect of serious flooding sparked a new round of stockpiling of food and water, while police warned residents to stop parking their vehicles on the elevated highways around the city.
"It is both dangerous and inconvenient,'' said General Panu Kerdlapphol, adding that many vehicles had already been towed away by the authorities.
Many homes and businesses in the capital have piled sandbags outside their entrances and soldiers have been deployed to protect floodwalls as anger grows among residents upriver bearing the brunt of the crisis.
Adding to the fearful mood, the fisheries department said a special "rapid movement'' team has been set up to catch crocodiles which escaped from flooded farms, mostly in central Thailand.
"If you encounter a crocodile, don't panic,'' it advised in a statement.
"Normally they are afraid of human beings. So just use a wooden stick or your hand to bang the water and the crocodile will swim away.''

- AFP