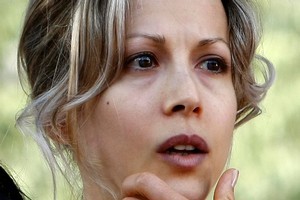 French prosecutors have dropped a sex assault probe into former IMF chief Dominique Strauss-Kahn, saying he admitted trying to kiss the alleged victim but the case is too old to prosecute.
Tristane Banon, a 32-year-old author, claims the politician tried to rape her in 2003, but prosecutors say evidence suggests sexual assault - which has a shorter statute of limitations - rather than attempted rape.
"Mr Strauss-Kahn admitted trying to kiss Miss Banon," a judicial official told reporters on Thursday.
"He does not admit sexual assault, but that's his opinion. The magistrate for his part said it could be regarded as a sexual assault."
The Paris prosecutor's office said in a statement: "Even if a prosecution for attempted rape could not be launched for lack of sufficient proof, facts that could be qualified as sexual assault were admitted."
Henri Leclerc, one of Strauss-Kahn's lawyers, confirmed the details of the ruling, but insisted: "He admitted no violence of any kind. Mr Strauss-Kahn tried to kiss her. He was refused, and did not insist, allowing her to leave."
Under French law sexual assault is a lesser charge than attempted rape and cannot be prosecuted if a complaint is made more than three years after the alleged incident. The state prosecutor has therefore halted his probe.
Banon had already said she would attempt to bring a private prosecution if the prosecutor's office refused to take the case, in which case an independent investigating magistrate will have to reconsider the evidence.
"He will have to be satisfied with being an unconvicted sex attacker, protected by the statute of limitation from criminal charges, but not from legitimate suspicion about his behaviour towards women," Banon's lawyer David Koubbi said.
Banon had claimed Strauss-Kahn lured her to an unfurnished Paris flat on the pretext of giving her an interview for a book she was researching, then grappled with her "like a rutting chimpanzee" while attempting to pull off her jeans.
The prosecutors' decision came on the same day as the release of Banon's latest book, a 128-page novelisation of her experiences, extracts of which will be published in this week's mass circulation Paris Match news magazine.
In The Hypocrites' Ball she does not identify her alleged attacker by name, but refers instead to a "pig" and a "baboon man".
The former IMF director also still faces a civil suit in New York, where another young woman, a hotel chamber maid, claims he tried to rape her in May.
Strauss-Kahn again denied violence but admitted he had had a sexual encounter with the maid during her seven-minute visit to clean his room.
He was charged in a New York court, but prosecutors dropped the case amid doubts over the woman's testimony. She is pursuing a civil case for damages.
- AFP