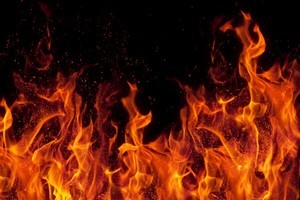 An industrial plant in Texas has erupted in flames, sending vast black plumes of toxic smoke into the sky and a stream of blazing chemicals pouring from the site.
The fast-moving inferno burned out of control at the Magnablend chemical plant near the town of Waxahachie, with billows of smoke blackening skies for miles around.
No injuries were immediately reported and workers and visitors were evacuated.
News reports said children at a primary school near the facility had been cleared out in school buses after first being advised to shelter in place, and that a neighbouring community college was also evacuated.
A company environmental official was unable to say what caused the huge fire in the town south of Dallas.
"The only thing we know for sure right now is the building where the fire began looks to be a complete loss," the facility's environmental health and safety manager Donald Golden told CNN, noting that first responders were still trying to put out the blaze.
"All of our employees and anybody who was visiting the plant at the time the fire began has been evacuated and accounted for. So that was obviously our first concern. Everybody is out and safe."
News reports said burning liquid was spilled along the ground and under a firetruck at the plant, causing it to explode. The truck appeared to be empty and no injuries were reported.
The inferno was also reportedly spreading quickly into a rail yard beside the plant.
A local CBS television affiliate said that the building complex is located just off a major highway that had to be shut down because of the smoke and fire, and that firefighters from several nearby towns had been enlisted to battle the flames.
- AFP