Gay rights lobbyist, ex-militant top poll to succeed McAleese.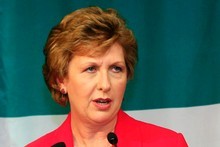 A gay rights activist, a former IRA commander and a Eurovision song contest winner are in the interesting line-up of contenders for the Irish presidency after nominations closed yesterday.
Independent senator David Norris, a long-time champion of gay rights, and former pop star Dana Rosemary Scallon got the necessary backing from local councils to contest the October 27 vote.
The record field of seven candidates for the largely ceremonial post also includes Martin McGuinness, former leading member of the IRA turned deputy first minister of Northern Ireland.
President Mary McAleese is at the end of a second seven-year term.
The candidates took part in a live television debate soon after nominations officially closed, the favourite Norris saying he'd shown he could cope with very difficult times, in an apparent reference to the eurozone nation's huge debt problems.
In a major turnaround, Norris re-entered the race after abandoning his bid to become the staunchly Catholic country's first gay president last month over controversy about a statutory rape case involving a former lover.
He asked Israeli authorities for clemency for former partner Ezra Yitzhak, accused of the statutory rape of a 15-year-old Palestinian boy in 1992. Yitzhak pleaded guilty and was convicted in 1997.
McGuinness has insisted his past with the IRA isn't a barrier, saying the success of Northern Ireland's peace process means he can help bring both parts of Ireland together.
A poll in last weekend's Sunday Business Post put Norris in first place on 21 per cent, former Labour Party minister Michael Higgins in second on 18 per cent, and McGuinness third on 16 per cent.
- AFP