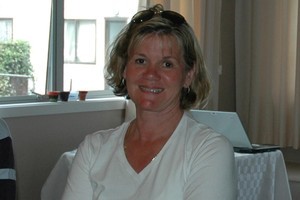 A former US marine accused of murdering Kiwi nurse manager Michelle Beets told his wife "that bitch is gone'', and that he had cut her throat, a Sydney jury has heard.
Samantha Marsh said her husband confessed to her when they met up about 45 minutes after the New Zealand nurse was murdered outside her home on April 27 last year.
"I was about to kiss him,'' she told the NSW Supreme Court jury on Tuesday.
"He told me 'not to touch me, I'm dirty'.''
She was giving evidence via CCTV at the trial of nurse Walter Ciaran Marsh, 50, who has denied murdering Ms Beets, 57, who had been his boss at Sydney's Royal North Shore Hospital.
Ms Beets, whose throat was slit and who suffered eight stab wounds to her chest, gave him bad job references after his hospital contract was not renewed.
Ms Marsh, who met her husband in her home country Vietnam in 2007, said he had applied unsuccessfully for other jobs.
"He kept saying she needed to go and that she is the reason for his bad references,'' she said.
"He told me that finally 'I got permission from the organisation in Ireland to kill Michelle Beets'.''
He said he knew where Ms Beets lived and he continuously practised opening and closing his flick knife in the week before her death, she said.
Ms Marsh said her husband once asked to "try something on me'' and stood behind her, held her around the neck and said: 'You are supposed to try and push my hand away from you.'
"He pretended to stab on my chest,'' she said.
Ms Marsh said she met her husband outside Chatswood Chase at 7pm (AEST) on April 27 and as they walked home ``he told me it was done''.
When she asked him what he meant, he replied: "I did it, let's go home ... That bitch is gone, from now on I will not have any more bad references.''
He later said: "Actually, I am not sure if she is dead,'' adding things "went unexpectedly'' when some dog walkers saw him so he had to run off.
Ms Marsh said he told her when he grabbed the woman, she started screaming and he pushed her down, asking her to stop otherwise he would hurt her.
"When she stopped screaming, at that point, he cut her throat,'' Ms Marsh said her husband told her.
He also said he changed in a nearby garage that nobody used, threw away various items in different bins in the area and got rid of the knife in a stormwater drain, she said.
On the way home, he "took off all his clothes'' and jumped into a swimming pool in an apartment block, she said.
At home he showered, had a "cup of liquor'' and told her, "You see, it is very simple. I'm still here, I'm not even sweating,'' and then watched a movie, she said.
Ms Marsh said she had lied to police until her husband's arrest on May 19 for "many reasons'', including concern for her safety and that of her brother, as they were still living with Marsh.
"Also, at that time, I was still being loyal to my husband, part of the Vietnamese culture ... I should not betray him,'' she said.
The trial is continuing before Justice Derek Price.
- AAP