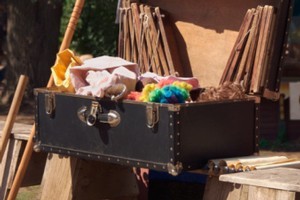 Thieves have succeeded in the ultimate disappearing act, making away with a magician's suitcase.
A maroon, crocodile-patterned suitcase was stolen from an unattended vehicle in Adelaide, police say.
The suitcase contained magical tricks and props including silver magical rings, silk scarves, magical rope, a magic colouring-in book and a red waistcoat.
None of the charms protected the suitcase from the unusual theft.
Holden Hill police said the suitcase was spirited away while the car was parked at a takeaway restaurant in Modbury in Adelaide's northeast.
- AAP