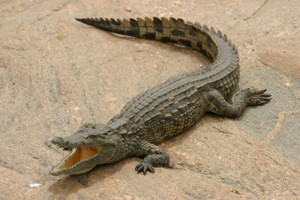 Swimmers at a Darwin pool got more of a wake up than usual from their morning laps when a crocodile appeared.
Parap pool lifeguard Tim Dupe says he didn't notice anything unusual when he did his morning checks and opened the pool.
So it came as "a bit of a surprise" when someone told him there was a 40 centimetre freshwater croc in the shallow end.
"One gentleman came up walking quite briskly and said there's a croc in the pool," Mr Dupe told AAP.
Mr Dupe asked if the man was joking, thinking a rubber toy croc may have been left behind in the pool.
"He said no, it's alive, it's a real one," the lifeguard said.
"It is not what I usually find in the pool."
He fished it out with a leaf scoop.
"When I caught it in the net it snapped its teeth and tangled in the fine mesh."
He says it was probably a pet, left as a prank, as it was fairly healthy.
Parks and Wildlife Rangers have taken it away.