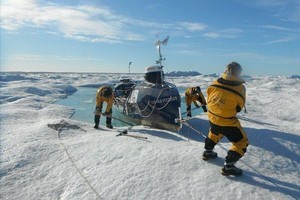 A six-man British crew have become the first to row to the magnetic North Pole, completing the 725km journey from northern Canada in under four weeks.
Crew leader Jock Wishart undertook the expedition to highlight climate change in the Arctic region. Such a journey has become possible in recent years due to an increase in the amount of ice melting in the summer.
The crew encountered polar bears and collided with icebergs as they journeyed through the Arctic waters of northern Canada. They reached the 1996 magnetic North Pole at 0030 GMT on Friday.
"It is an enormous achievement, and a privilege for our team to have been part of what is one of the world's last great firsts," Wishart said.
"We're all delighted, all very, very shattered. Everybody's extremely exhilarated, everybody's extremely happy and we've accomplished a truly great polar first and an ocean row which will go down in the record books."
The group set out from Resolute Bay on July 29 in their specially designed boat-cum-sledge, the Old Pulteney, which has runners on its underside so that it can be hauled over the ice.
They slept in shifts between rowing stints and were fuelled by 7000-calorie-per-day dry rations.
The magnetic North Pole constantly changes position but the 1996 location was the first time it had been accurately plotted and the position has become an established objective for Arctic expeditions.
"Now I'm looking forward to a nice pint and a glass of malt whisky when I get home," Wishart said.
- AFP