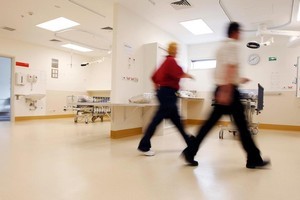 One man lost both legs and another suffered life-threatening burns when a homemade explosive device blew up in a suburban Melbourne backyard.
The two men were mixing chemicals in a container in front of neighbours at a Cannons Creek home when it exploded on Sunday. Both are now fighting for their lives in Melbourne hospitals.
Paramedic Ben Meadley said a 24-year-old man had "complete or near amputation" of his legs and a hand.
"One [patient] had severe airway burns and the second patient suffered severe blast-type injuries, the type of injury you'd more liken to what you'd see in a war situation rather than in outer suburban Melbourne," he said.
Meadley confirmed reports the explosion could be felt in nearby homes.
"I believe a lot of the neighbours who were up to a few hundred metres away felt their houses rock, so it was quite a large explosion."
Neighbour Judy Gibbs said the explosion shook her house.
"I'd gone to bed and next minute there was this great, big, loud explosion - the windows in my house shook, the whole house shook," she said.
It's believed the accident was essentially fun gone wrong.
The two men were mixing the chemicals to make an improvised explosive device, possibly a rocket, in front of neighbours when the explosion occurred.
-AAP