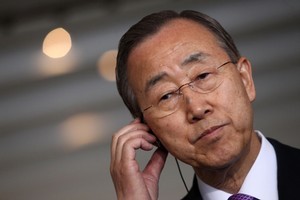 UN leader Ban Ki-moon has called on Syria's President Bashar al-Assad to halt a military offensive on dissenters in which nearly 140 people have been killed, a UN spokesman said.
Ban strongly condemned the action by Assad who has been refusing to take the UN leader's calls for several weeks.
"The secretary general is deeply concerned over reports from Syria that hundreds of protesters have been killed and injured in Hama and other towns and cities throughout the country," said UN spokesman Martin Nesirky.
"He strongly condemns the use of force against the civilian population and calls on the government of Syria to halt this violent offensive at once.
Ban reaffirmed Syria's obligation to respect human rights, including the freedom to demonstrate peacefully and urged Assad "to listen to the legitimate aspirations of the population."
"The secretary general reminds the Syrian authorities that they are accountable under international human rights law for all acts of violence perpetrated by them against the civilian population," the spokesman said.
Activists say Sunday's offensive in Syria is one of the deadliest since demonstrators first took to the streets on March 15 demanding democratic reforms.
Syrian forces killed nearly 140 people, including at least 100 when the army stormed the flashpoint protest city of Hama to crush dissent on the eve of Ramadan, activists said.
- AFP