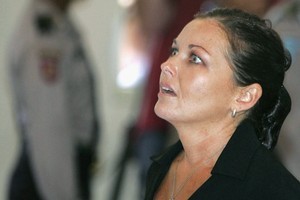 The family of convicted drug smuggler Schapelle Corby do not want to get their hopes up over apparent new evidence claiming the Gold Coast beautician may have been set up.
Her sister Mercedes Corby said the family were being cautious over claims by a woman known only as "Sue" who recently came forward to reveal that Corby could have been set up.
"At this stage I still have more questions than answers," Mercedes Corby told New Idea magazine.
"We just hope the Australian police investigate and pass on whatever information they get, so we know how to proceed.
"It's hard because whenever something like this happens, our friends and family start contacting me and their hopes are really high.
"Then it's usually up to me to let them down and tell them nothing's really happening - Schapelle isstill not being freed."
Corby is serving 20 years in Indonesia's Kerobokan jail after being caught with more than 4kg of cannabis at Denpasar Airport on October 8,2004.
Last month a woman came forward saying she believes the former beauty student could have been set up.
The woman claimed she dated a Brisbane Airport baggage handler for a short period who knew a colleague who in October 2004 went to work with a large bag of cannabis.
Mercedes Corby said her sister spent her 34th birthday on July 10 locked in her Bali prison cell and is battling mental illness.
"Generally, she doesn't speak about the future, she doesn't look forward to anything any more.
"It's all about getting through each day. It's like endless, slow torture."
- AAP