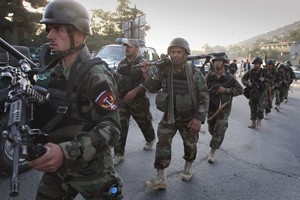 More civilians are dying in Afghanistan than at any time during the past decade, a United Nations report says, as the war spreads to previously safe parts of the country and insurgents increase their use of suicide bombers, child soldiers and homemade bombs.
Afghanistan's grim arithmetic for the first six months of the year includes 1462 civilians killed, 80 per cent of them by insurgent groups, and a further 2144 wounded: a 15 per cent jump on the same period last year.
"The rising tide of violence and bloodshed in the first half of 2011 brought injury and death to Afghan civilians at levels without recorded precedent in the current armed conflict," the UN mission in Kabul said yesterday.
It added that there was every likelihood the true total is higher than reported, because the closure of one of its offices following a deadly attack had left it unable to collect some data.
The worrying data comes as coalition partners are all announcing major reductions in troop numbers and fixed dates on when they expect to have completely withdrawn from Afghanistan when responsibility for security will be taken on by the Afghan security forces.
The preparedness of these domestic forces to take on the job of protecting the Afghan population has been questioned on many occasions.
- INDEPENDENT