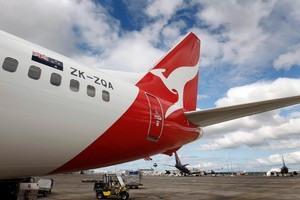 Qantas long-haul pilots have voted to take protected industrial action against the airline for the first time in 45 years.
Australian and International Pilots Association (AIPA) vice-president Richard Woodward said 94 per cent of the 1429 pilots who voted in a ballot were in favour of the action.
The pilots were also asked to vote on types of industrial action, and a final strategy would be mapped out over the weekend, Mr Woodward said.
"It's up to us what action we will be taking over the next few days," he told reporters in Sydney on Monday.
The association wants Qantas to give assurances on job security.
It has cited concerns about the outsourcing and offshoring of pilot jobs at Qantas.
AIPA president Captain Barry Jackson said the pilots had not taken industrial action since 1966.
He said the aim of the action was to get a clause in an enterprise agreement guaranteeing Qantas pilots would operate Qantas long-haul flights.
"To say that we have taken this action lightly is an understatement," he said.
"The issue that pushed us towards taking protected industrial action is a fundamental one - keeping Qantas pilots operating Qantas flights.
"We now have a management team in charge who believe you can shift operations to Asia, outsource the jobs of Australian Qantas pilots and not do any damage to the Qantas brand in the process.
"They are wrong."
- AAP