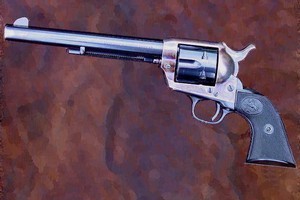 In a move that can best be described as interestingly-timed, given the shooting of Congresswoman Gabrielle Giffords in Tucson, Governor Jan Brewer has signed into law a landmark piece of legislation that will give Arizona an official state firearm.
The Colt Single Action Army Revolver (also known as the "Peacemaker") will now join an eclectic list of items supposed to best reflect the unique history, landscape, and culture of the desert state. They include an official tree (the Palo Verde), a breed of butterfly (Swallowtail), a variety of gemstone (Turquoise), and Wild West neckwear (the bola tie).
Arizona, which has some of the most relaxed gun laws in the developed world, now becomes the second US state to adopt an official weapon. The decision to formalise its status reflects the strength of gun culture among locals. On any given day roughly 40 per cent of them are capable, to use common vernacular, of "packing heat."
The move also follows a trend. Earlier this year, neighbouring Utah became the first state to gain an official firearm, plumping for a semi-automatic pistol.
Gun enthusiasts are now hoping to introduce similar measures across the nation. The National Rifle Association is vigorously lobbying lawmakers in Pennsylvania, for example, to plump for a long rifle.
This growing idolisation of deadly weapons has sparked debate at a time when Democratic Congresswoman Giffords is still recovering from being shot in the head during an attack in January which left six dead and 15 injured outside a shopping centre in Tucson.
Her alleged assailant, Jared Lee Loughner, had convictions for drug possession and was suffering from mental illness. He was nonetheless able to legally purchase his weapon, an automatic Glock, from a local gun store.
Supporters of Ms Giffords have described the creation of a State firearm as an insult to the victims of that attack. It has further upset supporters of native Navajo Indians, who say the Colt was used as a tool of genocide by white settlers in the old west.
- INDEPENDENT