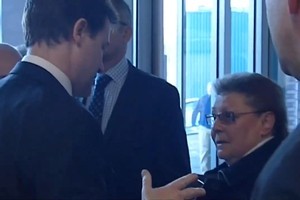 Yesterday was supposed to be a "good news" day for Britain's Deputy Prime Minister Nick Clegg as he announced a £450 million ($930 million) fund to safeguard 100,000 jobs.
But he had reckoned without the formidable Gillian Duffy, the Rochdale pensioner who destabilised Labour's campaign a year ago after then-PM Gordon Brown was caught on a microphone calling her a bigoted woman.
Duffy demanded an audience with Clegg and got one - in full view of the media.
The Labour voter asked why the Liberal Democrats "went in" with the Conservatives rather than Labour.
A firm but polite Clegg said: "Because you may remember, no one won the election at all ... I think it is important you have a government that can do things because we have to sort out a lot of mess we inherited from the previous lot."
She asked him to "look me in the eye and tell me" he was happy with the Government's cuts.
Clegg explained the record peacetime deficit was the equivalent of his family "maxing" out their credit cards.
Unimpressed, Duffy said he was making "just the same speech" she heard him give an hour earlier on the radio.
Duffy said he failed to convince her of the coalition's merits. "Let's face it, it's all gone wrong," she said.
- Independent