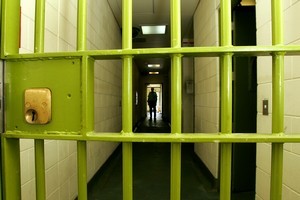 Prosecutors in Indonesia are seeking a 16-year prison sentence for an Australian man accused of smuggling almost A$400,000 worth of methamphetamine into Bali.
It could be taken as a sign that Indonesian authorities are softening their attitudes to the death penalty - which is good news for the likes of Schapelle Corby and the 'Bali Nine'.
Michael Sacatides, 43, was arrested at Bali's international airport on October 1 last year when customs officers allegedly found 1.7kg of the drug, known as ice, concealed in his luggage after he arrived on a flight from Thailand.
Sacatides had been facing the prospect of a possible death sentence but prosecutors in the Denpasar District Court instead sought a sentence of 16 years.
In requesting the sentence, prosecutor Ida Bagus Atmaja told the court that the alleged attempt by Sacatides to import the substance into Bali had damaged government efforts to combat drug abuse and had also tarnished the image of Bali as a tourist destination.
However, Atmaja added that because Sacatides had no prior convictions this worked in his favour in terms of the sentence being sought.
Atmaja also requested that time already served be taken into consideration and that Sacatides be allowed to have his sentence reduced by another three months if he pays a fine of one billion Indonesian rupiahs (about A$110,500).
But defence lawyer Erwin Siregar questioned the sentence request, saying the prosecution had failed to prove the drugs belonged to Sacatides.
"Based on facts revealed in the trial, the owner (of the drugs) has never been proven," Siregar said.
"That there's such drugs entering Indonesia from Thailand, there is. But the owner was never revealed."
Sacatides, a kickboxing trainer from Sydney's west, has always maintained his innocence, claiming he had no idea the drugs - worth an estimated A$390,000 - were in the suitcase he was carrying when he arrived in Bali.
He told investigators at the time of his arrest that he had borrowed the luggage from an Indian associate, Akaleshi Tripathi, whom he knew from Bangkok, where he had been living and working for almost two years.
Tripathi, alias Peter, has never been located.
The defence will be given an opportunity to respond to the prosecution's request when the trial resumes on April 19, before the judges deliver their decision, which is likely to come within weeks.
Under the Indonesian court system, prosecutors make their sentence request before the defendant is found guilty or acquitted.
If convicted, Sacatides will join other Australians serving time in Kerobokan Prison, including three members of the Bali Nine who are on death row.
Scott Rush, Andrew Chan and Myuran Sukumaran are facing the death penalty for their part in a 2005 attempt to smuggle more than 8kg of heroin from Bali to Australia.
Another six members of the so-called Bali Nine are serving sentences of between 20 years and life in prison, while the Gold Coast's Schapelle Corby is serving 20 years for smuggling more than 4kg of marijuana into Bali in 2004.
- AAP