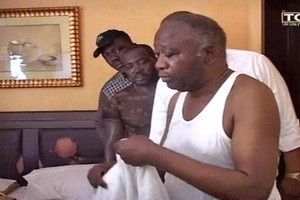 "Don't kill me!" were the first words that Ivory Coast strongman Laurent Gbagbo shouted when forces loyal to internationally recognised president Alassane Ouattara captured him, a witness says.
Ouattara used his troops and French tanks and air power to oust Gbagbo this morning, ending their four-month standoff by pulling him from his burning residence.
Gbagbo's capture came a week after attackers wielding machetes and guns killed more than 1,000 civilians in the neighbourhood of an Ivory Coast town controlled by forces fighting to install the internationally recognised president.
More than a million civilians fled their homes and untold numbers were killed over the course of the power struggle that threatened to re-ignite a civil war in the world's largest cocoa producer.
Images of Gbagbo being led into a room in a white undershirt were broadcast on television as proof of his capture even as he refused to sign a statement formally ceding power after losing November's election.
Speaking on condition of anonymity, a fighter with Ouattara's Republican Forces (FRCI) told AFP on Monday of Gbagbo's dramatic capture at the presidential residence in Abidjan.
The fighter said the yard outside the presidential residence had been teeming with landmines and that several FRCI fighters were injured when they stepped on the explosives.
He said the fighters threw tear gas into the residence before a commander entered in search of Gbagbo, who had been sheltering in there with his wife Simone.
"When he found himself face to face with Gbagbo, in front of his desk, the first thing Gbagbo said was `Don't kill me!'," the witness said.
He said Ouattara's forces put a bullet-proof vest on Gbagbo and the FRCI's commanders surrounded him "to protect him because some of our fighters wanted to finish him off right away."
Gbagbo was then put into a 4x4 and taken directly to Ouattara's headquarters at the Golf Hotel, he said.
Another witness at the hotel said Gbagbo was brought in under guard by pro-Ouattara fighters and UN police.
"I saw (his wife) Simone arrive in the hall, she was wearing a long dress. The FRCI security guys were trying to protect her from the crowd, which was trying to hit her," the hotel witness said.
"Despite this, there were a few people who managed to give her a couple of hits, to pull her hair. We could hear people insulting her, calling her a witch," he said.
Public still fearful
Residents of the commercial capital of Abidjan refrained from celebrating in public, still fearful of the hundreds of armed fighters that continued to prowl the streets, refusing to believe their leader had been arrested. Sporadic gunfire echoed across the city Monday night.
Gbagbo could be forced to answer for his soldiers' crimes, but an international trial threatens to stoke the divisions that Ouattara will now have to heal.
Gbagbo's dramatic arrest came after days of heavy fighting during which French and UN helicopters fired rockets at arms depots around the city and targets within the presidential compound. Ouattara's final push began just after French airstrikes ceased at around 3 a.m. Monday. A simultaneous French armored advance secured large parts of the city and pro-Ouattara troops entered the presidential compound just after midday.
"We attacked and forced in a part of the bunker," Issard Soumahro, a pro-Ouattara fighter at the scene, told The Associated Press.
He added that Gbagbo was tired and had been slapped by a soldier, but was not otherwise hurt.
Witnesses at the nearby Golf Hotel said Gbagbo was brought in with his wife, son and about 50 members of his entourage.
"The nightmare is over for the people of Ivory Coast," Ivory Coast's UN ambassador said.
Youssoufou Bamba, who was appointed UN ambassador by Ouattara, said Gbagbo will be delivered to justice.
But it will be very difficult for Ivory Coast to mount a domestic court to try Gbagbo, said Richard Downie, an Africa expert at the Washington-based Center for Strategic and International Studies, adding that it would "probably be a lightning rod for more unrest."
"(Ouattara) didn't want to come to power this way, through the barrel of a gun," Downie said. "He was elected fairly and freely. But this is the situation he was dealt. It's going to be incredibly difficult for him to bring the country together."
In western Ivory Coast, rebels fired into the air in jubilation in Duekoue, causing a panic among refugees who fled in all directions or dropped to the ground in terror. In villages going east from Duekoue people danced in the streets, waving tree branches. In one village, young men paraded with the orange, white and green Ivorian flag.
"It's a victory ... considering all the evil that Laurent Gbagbo inflicted on Ivory Coast," Ouattara's ambassador to France, Ali Coulibaly, told France-Info radio. He emphasized that the man in power for a decade would be "treated with humanity."
"We must not in any way make a royal gift to Laurent Gbagbo in making him a martyr," Coulibaly said. "He must be alive and he must answer for the crimes against humanity that he committed."
Gbagbo a popular rival
Ivory Coast was divided into a rebel-controlled north and a loyalist south by a 2002-2003 civil war. The country was officially reunited in a 2007 peace deal. The long-delayed presidential election was intended to help reunify the nation but instead unleashed months of violence.
Gbagbo, who won 46 per cent of the vote, held power for a decade and already had overstayed his mandate by five years when the November election took place. When the country's election commission and international observers declared he lost the election after it was finally held, he refused to step down.
The former history professor defied near-universal pressure to cede power to Ouattara. The two set up parallel administrations that vied for control of the West African economic powerhouse.
Ouattara drew his support from the UN and world powers. Gbagbo maintained his hold over the country's military and security forces who carried out a campaign of terror, kidnapping, killing and raping his opponents.
Gbagbo wrapped himself in the country's flag as he took the oath of office at his shotgun inauguration.
"No one has the right to call on foreign armies to invade his country," Gbagbo, still taking a nationalistic stance, declared in a televised address on New Year's Eve. "Our greatest duty to our country is to defend it from foreign attack."
Ivory Coast gained independence from France in 1960, and some 20,000 French citizens still lived there when the civil war broke out.
peated Ouattara's initials over and over, chanting "ADO is our president."
- AP, AFP