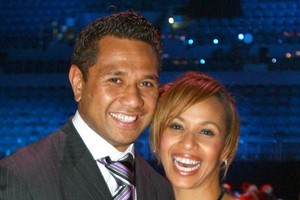 Former All Black Pita Alatini could easily have fled his adopted home town in northern Japan after it was destroyed by a massive earthquake and tsunami and returned to his native New Zealand.
Instead, the captain of the Kamaishi Seawaves rugby club stayed on to help rebuild the port town he has called home for the past six years after the March 11 earthquake, the worst ever recorded in Japan.
"I love this town and I've got a lot of good Japanese friends," said Alatini, a former All Black midfielder and one of three foreign players to have stayed on in Kamaishi.
"We can rebuild the town, we can put Kamaishi back together," he added as he helped local volunteers unload food and clothing for survivors of the 9.0-magnitude quake at a local shelter.
"We just ask them (survivors) to hold strong."
Nearly 700 Kamaishi residents have been confirmed dead after the huge wave slammed into the steel-making town, toppling tsunami protection walls, with a further 650 unaccounted for.
But its 34-strong rugby squad, among them three foreign players, were all unhurt, and have been putting their considerable physical strength into helping with the relief effort.
The foreigners, who also include an Australian and a Tongan, have stood side by side with locals, enduring power outages, food shortages and the risk of aftershocks and radiation from a stricken nuclear plant to stick by the community.
"We owe Kamaishi a lot," Australian rugby forward Scott Fardy told AFP. "Hopefully, our presence here will help Kamaishi and cheer people up. We hope we can benefit the community in some way."
The Seawaves team was once among the best-performing in Japan, earning Kamaishi the nickname "rugby town", although it has slipped down the league in recent years.
Relief organiser Wataru Yahata said rugby was "the symbol of Kamaishi," and expressed hope that the players' efforts would give local people encouragement as Japan faces up to its worst disaster since World War 2.
Rugby has a small but growing following in Japan and in 2019 the country will become the first outside the sport's traditional strongholds in Europe, South Africa and Oceania to host the World Cup.
Alatini, one of a growing number of foreign players in Japan, has now left Kamaishi to join his family, who returned to New Zealand shortly after the quake.
The rugby season does not restart until September, but he plans to return next month for a meeting with fellow team members to discuss the future of the club.
For fellow Seawaves player, Tongan Lataniela Lui, leaving was unthinkable. "This is our home," he said. "We owe Kamaishi. We can't just get up and walk away."
- AFP