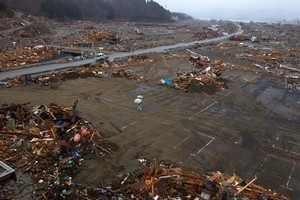 Had a visitor dropped into the coastal resort of Minamisanriku less than a week ago, they would have seen a beautiful bay, man-made beaches, sports fields and tourist attractions.
This week, after the Friday tsunami, the town and half of its population of 17,000 are nowhere to be seen.
The surge obliterated almost everything in its path for at least a kilometre inland. So far, 1000 bodies have been recovered from the town, located in a seemingly sheltered valley on the country's northeast coast.
But Takashi Takeshita, commander of a fire and rescue unit from the western city of Kyoto, said about 8000 people were still unaccounted for, and while hopes of finding survivors were nearly extinguished, he was not ready to give up.
"The chances of finding people alive are slim, but we want to try to find missing people, not bodies," said Mr Takeshita.
He then returns to his task - using a golf club to prod a tangled clump of wooden debris, knotted with fishing nets and clothing.
Behind him, a vast field littered with hundreds of similar piles stretches out into the distance.
The tsunami swept away buildings and cars with such force that most were pulverised. What was not destroyed as the wave poured into the town was hit as the deluge receded.
Even houses on the hillside showed signs of damage, and household items were washed up on to the higher ground.
Takatoshi Shiraishi, a driver for the local hospital - almost the only building in the entire area left standing - spent his 69th birthday walking through the remains of his town.
He said Minamisanriku's sea defences - built after a tsunami decades ago - had proved no match for the ferocity of the wall of water, which smashed through huge concrete walls as it thundered through town.
"People thought they would be safe behind the barriers, but this time, the tsunami was a lot longer and twice as powerful," Mr Shiraishi said.
"I remember that last time the tsunami came up to the city hall, so everybody thought that this time behind the building would be safe, but this wave came over the city hall."
The building, which used to stand near the hospital, had vanished.
At the local junior high school, transformed into a temporary refuge for around 340 people, city hall worker Yasunori Yamauchi said he did not know where his colleagues were.
"Fifty years ago, the tsunami was about 5.2 metres high and this time it was over 10 metres," Mr Yamauchi said. "Some people thought it was safe on top of buildings but they were hit as well." AFP