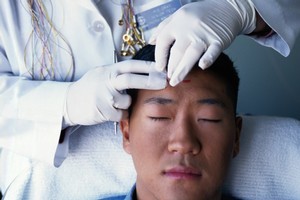 The use of brain surgery to treat psychiatric disorders has long been controversial, but new technologies are emerging that can help people with severe illnesses, scientists say.
The field has come a long way since the horrors of the frontal lobotomy and electroshock therapy seen last century, but experts urge caution because they are still learning how these deep brain stimulation (DBS) therapies work.
"As we stick devices into people's brains it turns out that this has become very promising. There are really exciting results but we remain cautious as we move forward," said Michael Okun, neurologist at the University of Florida.
Okun was part of a panel at the annual American Association for the Advancement of Science conference in Washington on Friday to describe new progress and setbacks in treating Parkinson's disease, obsessive compulsive disorder and Tourette's syndrome.
Psychiatrist Benjamin Greenberg discussed a trial he has been working on for people with what he called "malignant OCD," or a very severe and intractable form of the affliction.
"An example would be a patient who has compulsive urges to check or arrange things to make sure they are just right, or to prevent some sort of imagined harm," he said.
"These patients can become so overwhelmed by these thoughts and behaviours which they know are senseless, but they can't resist them," he said.
"So virtually all their waking hours are occupied by these obtrusive and stressing and obsessive thoughts and these senseless compulsive urges that are designed to neutralise these thoughts."
The technique for OCD, approved in 2009 by the US Food and Drug Administration for extreme cases under its humanitarian device exemption, involves the insertion of a thin electrode deep in the brain.
The electrical current has been shown to reduce OCD symptoms by about 25 per cent in some patients. The technique has been tried on just over 50 people in the United States since the research first began in 2000.
"In one sense, brain surgery may be a bridge to psychotherapy," Greenberg said, noting that the technique made severe OCD sufferers more moderate in their compulsions but did not cure them.
"This is reserved for the small proportion of people who are severely disabled and have not benefited anywhere near adequately from very aggressive use of conventional treatments."
About one per cent of adults are affected by OCD, experts say. To qualify for treatment with the brain electrodes, patients must show "severe and chronically disabling illness despite at least five years of aggressive treatment," Greenberg said.
Okun, who has been working with people suffering from Tourette's syndrome, said the world is now in a "bionic age" with about 70,000 people currently walking around with deep brain stimulation devices for various aims.
However, he warned that the technology must be coupled with therapy and rehabilitation.
"This is true of all DBS therapies. It is not a light switch," he said.
"Just because you can make the motor tics go away, it doesn't make the patients necessarily better," he said.
"We have to work hard on the social reintegration aspects and the rehabilitation aspects."
Helen Mayberg, professor of psychiatry at Emory University in Atlanta, Georgia, said people need to reframe their expectations of what the intervention can and cannot do.
"We have a medical, ethical and societal burden as we get into this field to actually help people become the best they can be," she said.
"Because once your brain is returned to you, you have to re-practice how to use it."
- AFP