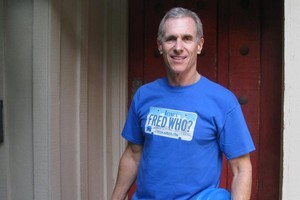 Fred Karger walked into a coffee shop in Manhattan looking every inch the sort of man who wants to be a Republican presidential candidate.
The long-time "Grand Old Party" operative, who has served three Republican presidents, had close-cropped grey hair and wore a sharp blue business suit. He clutched a folder of campaign literature and handed out a T-shirt emblazoned with "Iowa 2012".
But one key detail made Karger a little different in a Republican field swirling with names like Jeb Bush, Mitt Romney, Sarah Palin and Mike Huckabee. On his lapel Karger wore a badge pairing the Stars and Stripes with the rainbow colours of the gay rights movement.
Karger, 61, is openly gay.
When he officially declares his run, he will not only be the first gay Republican presidential candidate but also the first from any political party in American history.
"I am a fighter and I am trying to change the Republican Party and to open it up to everybody. If every gay person left the Republican Party and went to the Democrats, that would be stupid. I believe in smaller federal government and personal responsibility just like my hero, Ronald Reagan," Karger said.
There is no doubting Karger's Republican credentials.
He has spent his life working for the party as a top strategist. Like Karl Rove, he was a disciple of the controversial tactician, the late Lee Atwater.
Indeed, Karger played a key role in publicising the "Willie Horton" adverts that destroyed the Democratic candidate Michael Dukakis in 1988. Horton was a jailed murderer let out on a Dukakis-backed weekend release programme in Massachusetts who committed armed robbery, assault and rape while at large.
Karger toured the country with relatives of Horton's victims, dealing a fatal blow to Dukakis's image. He does not regret it for a moment.
But there is, obviously, doubt over Karger's chances in a field likely to be dominated by people with higher name recognition who are heterosexuals in a party with a dominant social conservative wing.
Yet Karger is already at work in Iowa and New Hampshire, the key first states in the nomination process. He has visited Iowa five times and New Hampshire 11 times in the past year. He has had aired TV adverts (the only potential candidate to do so) and held town hall meetings, attracted volunteers and even hired staff.
He is honest about the fact he is a virtual unknown. His campaign slogan on the T-shirts, badges and frisbees asks: "Fred who?" Yet it's a strategy that has earned him a wave of positive press coverage, including a profile in the Washington Post.
Karger knows winning the 2012 Republican nomination as a proud proclaimed gay man is a long shot. But getting in the televised candidate debates might not be.
By the spring he will probably have a ground operation, a media presence, campaign funds, a staff and a headquarters. That will allow him to put gay rights, including gay marriage, on the table in a party that usually dismisses them. To say the least, it will make interesting viewing and unsettle the big names. "I will take the gloves off if necessary," he said. He believes his campaign can raise US$5 million ($6.6 million).
Since coming out years ago, Karger has been a vocal campaigner for gay rights and a critic of organisations, especially the Mormon church, that oppose gay marriage.
Little wonder then the Republican establishment is trying to exclude him. Last week's meeting of the influential Conservative Political Action Committee in Washington did not invite Karger to speak, though he used the snub to generate media attention.
"I cannot help but think that I have been excluded solely because I happen to be gay ... I am not some two-headed monster. I want to squash the anti-gay rhetoric."
During his trips to Iowa and New Hampshire, often speaking to gay student groups, Karger noticed he was getting a lot of emails from young gay people saying his ambitions had helped their lives where they faced prejudice and bullying.
Karger remembered feeling isolated and does not want others to experience that. Having an openly gay man run for the presidency is vital, he believes, even if he fails.
He says the symbolism of paving the way is important, just as it has been with pioneering but ultimately unsuccessful women such as Hillary Clinton and black candidates like the Reverend Jesse Jackson. Somewhere in America, Karger hopes, a young gay person will see his run and think: I can do that, too, one day.
"I am fine now. I am happy in my skin. But when I was growing up it was hell. I don't want anyone to go through that. That is what motivates me to make my voice heard. No more Mr Nice Gay."
- OBSERVER