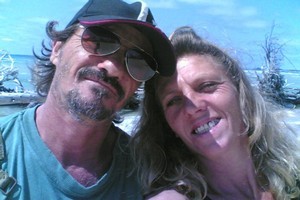 Negotiations are continuing for the release of the sister of an Auckland man and her partner who were taken hostage by Somali pirates, with a friend of the couple hopeful a resolution will be reached soon.
Durban couple Bruno Pelizzari and Deborah Calitz were seized by Somali gunmen as they were delivering a yacht to South Africa. The kidnappers are threatening to kill them unless a ransom of $13 million is paid.
A close friend of Mr Pelizzari, who did not wish to be identified, said negotiations were taking place and it was understood the couple were being treated fairly well.
"It would appear that we're quite close to resolve," he told NZPA.
The couple, along with the yacht's skipper Peter Eldridge, were jumped by 14 pirates who boarded off the coast of Tanzania.
They were forced to motor towards Somalia but the engine seized and they drifted for a few days until a French warship arrived. The pirates fired on the warship and the pirates ran the yacht aground and took the couple ashore. At that point Mr Eldridge managed to escape.
Mr Calitz's Auckland-based brother, Kevin van der Merwe, earlier said he had been told his sister and her partner were being held in cages.
He said it was impossible for the family to find the money the pirates were demanding.
The South African government had said its policy was not to pay any ransom.
The couple was sailing the 11m yacht Choizil back to South Africa from Dar es Salaam. They planned to return to Dar es Salaam to pick up their own yacht and sail to New Zealand.
The New Zealand Government is considering a request from the United Nations for a warship to be deployed on piracy patrol off the coast of Africa.
Modern pirates often used small boats and carry small arms such as AK47 assault rifles and rocket-propelled grenades to stop large cargo ships, including oil tankers, and hold them for ransom.
- NZPA