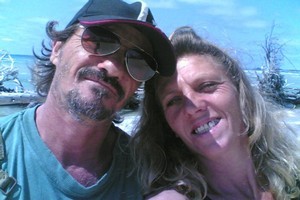 The sister of an Auckland man has been kidnapped by Somali pirates who are threatening to kill her and her partner if a US$10 million ransom is not paid.
The South African couple, Deborah Calitz and Bruno Pelizzari - who had plans to eventually sail to New Zealand - were abducted by the pirates off the African coast and have been kept hostage for four months.
Ms Calitz's New Zealand-based brother, Kevin van der Merwe, hasn't heard from her since - the only contact has been from the pirates who are demanding the ransom.
"It's something that happens to other people, you don't even think about it. It's just total shock and disbelief," Mr van der Merwe said yesterday.
The couple's plight has made headlines in South Africa, but Mr van der Merwe hasn't spoken publicly about it here until now because they didn't want the pirates to discover there was family overseas.
"If the pirates hear there are any overseas relatives they think we're rich, but now we have to do something."
Just two weeks remain before the pirates have threatened to kill the couple if they aren't paid and he is appealing for help to raise as much cash as possible.
He said the message was clear: pay US$10 million (NZ$13.2 million) otherwise the couple would be killed. "That was three weeks ago so we're down to the last couple of weeks," he said.
While the South African government did not pay ransoms, a group of "dedicated skilled people in police" was helping the family.
The group, consisting mainly of police crisis and hostage negotiators, contacted the family first to advise what happened and soon after the pirates made contact.
A man called Ali phoned Mr van der Merwe's brother Dale with the demands. "He was very aggressive [and said] they were going to kill them and we had to come up with 10 million to release them. We repeatedly told them in numerous conversations none of us have that sort of money."
Ms Calitz, 48, and Mr Pelizzari were hired to sail the 11m yacht Choizil back to Richards Bay, South Africa, from Dar es Salaam, Tanzania. Their intention had been to then return to Dar es Salaam, where their own boat was, and set sail towards New Zealand.
The couple - along with the skipper Peter Eldridge - were attacked off the coast of Tanzania in late October and were held hostage by the heavily armed pirates on Choizil for nearly two weeks.
Mr Eldridge was shot at but escaped unharmed when the pirates forced him to run aground and the pirates fled inland with Mr Pelizzari and Ms Calitz.
Their whereabouts are unknown but it is thought to be somewhere in Somalia. Mr van der Merwe said the couple were heading to South Africa for a brief trip home to visit Ms Calitz's grandchild before heading towards New Zealand.
Mr van der Merwe, who has lived in Auckland for three years, told the Herald he still had trouble believing what had happened to his sister.
A recent case where a British couple were rescued had given them hope but he was worried about how the couple would cope with the grim conditions. That couple lost over half their weight and other captives have told of being kept in cages and only feed bread and water once a day.
"It gave us hope but it was also very hard to hear. Softer, or more kinder people you wouldn't find anywhere than them. Even what they were doing when they were attacked ... They were helping Peter Eldridge bring his boat down [to South Africa]," he said.
He suspected Ali had lost control of the situation or sold them to other pirates. "The negotiations have come to a deadlock and now we have to come up with a large sum of money, but much more reduced from what they were originally asking."
There had been a flurry of activity recently which he thought could be a "last minute behind-the-scenes attempt" to pay the pirate some money but he doubted there would be any sort of military rescue.
Skipper Mr Eldridge recently gave evidence at a court hearing in the Netherlands for five Somali nationals who are suspected to be part of the group that hijacked the Choizil and are about to stand trial.
After speaking to the authorities, he told a South African newspaper he would never forget the ordeal. "It is probably something I will never get over. The most important thing now is to get Bruno and Debbie back safely."
A PIRATE'S LIFE
* According to the International Maritime Bureau, pirates hijacked 53 ships and kidnapped 1181 seafarers in 2010.
* Eight sailors were killed.
* Hijackings off Somalia's coast accounted for 92 per cent of all ship seizures last year.
* Somali pirates were still holding 28 vessels and 638 hostages for ransom as of December.