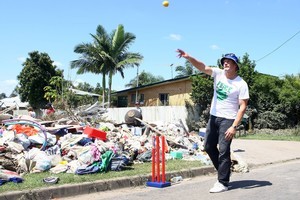 The Wiggles have wiggled for them, the Queen has dipped into her purse, Kenny Rogers will sing for them and Bob Dylan has thrown in a track - all sorts of donations are being made to Queensland flood victims.
Rural Australian towns are resigned to another week of floods as a lake 90km long continues to spread northwest of Melbourne and a potential cyclone looms off the north Queensland coast.
Emergency services were yesterday focusing on the town of Swan Hill, 340km northwest of Melbourne, where two rivers meet and floodwaters are expected to peak midweek.
Money for flood victims continues to be raised in a variety of ways.
The John Deere company donated a tractor to Ipswich, where hairdresser Gaye Hawkesworth is offering free back-to-school haircuts.
Tennis star Andy Roddick has donated A$100 ($131) for every ace he served at the Brisbane International tournament, while teams from every football code have put their backs into the recovery effort, shovels in hand.
There's a Wikifloods website set up by Oxfam based on the online system used to successfully assist hundreds of families after the 2008 bushfires.
The Australian Haiku Society has joined the effort with author Graham Nunn, donating money from his book Ocean Hearted to flood victims.
At Warwick's Westpac bank, staff are baking lamingtons to assist the Premier's Disaster Relief Appeal.
Sting, Bon Jovi, Kings Of Leon, Beyonce, Billy Joel, Bruce Springsteen, Foo Fighters, John Mayer and Bob Dylan are among international artists joining Australian musicians on a three-CD, 59-track benefit album produced by Sony: Flood Relief - Artists for the Flood Appeal, due out today.
The Wiggles wowed young audiences and met flood victims in Brisbane and Ipswich yesterday.
- AAP, AP