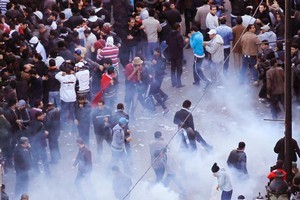 Tunisian protesters turned their anger yesterday on officials suspected of helping relatives of ousted President Zine Bel Abidine Ben Ali flee the country.
It came after a video emerged showing one of his nephews, Imed Trabelsi, preparing to fly out from a military base.
It was widely reported that Trabelsi was seized by a mob and fatally stabbed on Monday, but there had been no confirmation of his death.
Thousands of protesters mobbed the Tunis headquarters of Ben Ali's Constitutional Development Party, which had ruled Tunisia for several decades, chanting slogans and defying the security forces.